In order to keep our content free, we may earn a commission from the companies mentioned in this post.
[toc]
Indulging in a regular workout regimen is essential for a balanced and healthy lifestyle. One of the most effective pieces of exercise equipment, both for full-body workouts and low-impact needs, is a rowing machine. Rowing machines offer a cardio workout like no other, targeting your upper body, lower body, and core in one fluid motion.
With the abundance of choices in the market, it can be quite challenging to determine the best rowing machine that suits your needs, budget, and space. This comprehensive guide aims to ease your selection process by presenting the best rowing machines for 2023, along with their pros, cons, and essential highlights.
Best Rowing Machines for 2023
1. Hydrow
Pros:
Real-time classes
Interactive screen
Full body workout
Quiet operation
Cons:
More expensive than most options
Needs space for its length
Hydrow (read review) is leading the way in revolutionizing the indoor rowing experience. This high-end machine combines robust build quality, innovative design, and cutting-edge technology to offer a superior workout experience. The 22″ HD touchscreen display brings a live outdoor reality rowing experience right into your home, making workouts more immersive and enjoyable. The real-time classes, led by professional athletes, offer the benefit of a structured and interactive workout without stepping out of your home. Despite its impressive features, Hydrow requires significant space due to its length and comes at a premium price. A monthly subscription is also necessary to enjoy the full spectrum of its features.
2. Aviron
Pros:
Competitive modes
Foldable design
Sturdy build
Cons:
Requires subscription for full features
May not be ideal for beginners
Aviron's rowing machine (read review) turns workouts into a fun competition. It transforms what might be a monotonous exercise into an engaging, game-inspired workout program. The multi-player games and challenges give you something to look forward to every day, while the automatic resistance adjustment means you don't have to fiddle with settings in the middle of your workout. Despite being packed with these advanced features, the machine's design remains user-friendly. The Aviron rower is sturdy and can be folded after use, saving space in your home gym. However, it requires a subscription to unlock all its features, and the competitive nature of the workouts may not be suitable for absolute beginners.
3. Echelon Rower
Pros:
Compact design
Variety of resistance levels
Lower price point
Cons:
Subscription needed for interactive features
Screen not included
For those working with limited space, the Echelon Rower (see review) offers a practical solution without compromising workout quality. The machine's compact design makes it a great fit for smaller rooms. Despite its smaller footprint, the Echelon Rower does not compromise on features or functionality. It offers 32 resistance levels, ensuring a challenging workout regardless of your fitness level. The rower also supports live and on-demand classes for those seeking interactive workouts. However, the interactive features require a subscription, and a separate screen is needed to follow along with classes, adding to the overall cost.
4. Ergatta
Pros:
Game-based workouts
Water resistance
Beautiful design
Cons:
Higher price point
May not be suitable for intense workout seekers
Ergatta (read review) is a unique player in the market. Merging aesthetics with function, the Ergatta rower is handcrafted from Cherry wood, making it a stylish addition to any home. More than just its looks, Ergatta offers game-based workouts, making your daily exercise routine more exciting. The machine uses water resistance to create a realistic rowing feel, with adaptive algorithms that adjust to your fitness level for personalized workouts. While the higher price point may be a hurdle for some, those looking for an engaging, interactive workout with an attractive design might find Ergatta to be the perfect match.
5. NordicTrack
Pros:
iFit integration
Realistic rowing experience
High-quality build
Cons:
Requires a significant amount of space
Requires subscription for maximum benefits
NordicTrack is a renowned name in the fitness industry, and their rowing machine lives up to the brand's reputation. Boasting 26 resistance levels and integrating with iFit, the NordicTrack rower offers a tailored workout experience that suits users of all fitness levels. Users can follow interactive personal training programs from the comfort of their home, with the rower's resistance automatically adjusting based on trainer's instructions, ensuring a seamless workout. While the NordicTrack rower offers a range of features, it does require a significant amount of space and a subscription to make the most of the iFit integration.
6. Peloton Row
Pros:
Excellent build quality
Access to Peloton's extensive workout library
Engaging live and on-demand classes
Cons:
Pricier option
Peloton subscription required for classes
The Peloton Row (read review) is a popular choice for fitness enthusiasts seeking a premium, interactive rowing experience. Known for their excellent build quality and innovative fitness technology, Peloton brings its expertise to rowing machines, offering access to its extensive workout library. The interactive touchscreen display allows users to participate in engaging live and on-demand workout classes, while the 24 resistance levels ensure the machine can grow with you as your fitness improves. It's important to note that the Peloton Row is one of the pricier options available and requires a subscription to enjoy the full range of its features.
7. Concept 2
Pros:
Proven performance
Durable and high-quality build
Excellent value for money
Cons:
Lacks interactive features
Can be noisy
The Concept 2 rower (read review) has been a favorite among athletes and fitness centers worldwide for many years. It offers proven performance and a durable, high-quality build. With its air resistance mechanism, it provides a smooth and realistic rowing experience. The performance monitor helps you track your progress over time, adding to its functional appeal. The rower separates into two parts for easy storage, a valuable feature for home users. However, the Concept 2 lacks the interactive features found in more modern models, and it can be somewhat noisy.
8. ProForm
Pros:
Affordable option
Foldable for easy storage
iFit compatible
Cons:
Build quality may not be as robust as higher-end models
Lower resistance levels
ProForm Rowers (read review) offer a solid option for those seeking affordability without sacrificing functionality. While it may not boast the build quality of higher-end models, it provides a reliable and effective workout. The ProForm rower is compatible with iFit, allowing for a variety of workouts, and it features an adjustable air resistance system and an inertia-enhanced flywheel for smooth strokes. The machine is also foldable for easy storage, making it an excellent choice for those with space constraints. However, compared to other models, it has lower resistance levels.
Factors We Used to Determine the Best Rowing Machines
Here are the key factors that we took into consideration when ranking these rowing machines:
Build Quality: The sturdiness and durability of the rowing machine are of utmost importance. A well-built machine can withstand intense workouts and stand the test of time.
Resistance Type: Different rowers come with various resistance types such as air, magnetic, water, or hydraulic. Each type offers a unique rowing feel and experience.
Interactive Features: In today's digital age, interactive features can take a workout from mundane to exhilarating. We considered rowers with smart connectivity, live classes, on-demand workouts, and gaming features.
Space Requirements: Not everyone has a dedicated home gym. We considered the footprint of the rowing machines, as well as if they are foldable or easy to store.
Value for Money: While it's great to have all the bells and whistles, they should justify the cost. We evaluated whether the price tag matches the features and quality offered by the machine.
User Reviews: Real-world experiences can provide insights that specifications on paper cannot. We delved into user reviews to understand the pros and cons from people who've used the machines regularly.
Customer Service and Warranty: A solid warranty and responsive customer service reflect the manufacturer's confidence in their product and their commitment to customers.
The process of determining the best rowing machines was comprehensive and involved extensive research. We started by shortlisting the most popular and highly rated rowing machines available in the market. We then delved into the specifications of each machine, scrutinizing every detail to understand their unique features and capabilities.
After a thorough understanding of the technical aspects, we moved on to user reviews. These reviews offer a wealth of real-world insights, shedding light on the long-term performance and reliability of the machines. User reviews also highlight any common issues or drawbacks that may not be evident during a typical test run.
Finally, we took into account the price of the rowing machines, ensuring we had options for every budget. While doing so, we maintained a keen focus on value for money, considering the quality, features, and performance offered for the price. This careful and methodical approach helped us compile a list that truly represents the best rowing machines for 2023.
Why Rowing is a Great Workout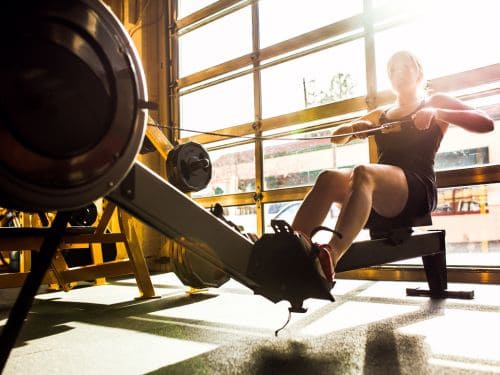 Rowing is a comprehensive form of exercise that engages a majority of the muscles in the body, offering a full-body workout. Here's a closer look at why rowing is a great workout option:
Full-body Engagement: Unlike some forms of exercise that focus on specific muscle groups, rowing involves a comprehensive range of motion that engages up to 85% of the body's muscles. It targets the arms, back, legs, and core simultaneously, offering a balanced and effective workout.
Low Impact: Rowing is low impact, meaning it exerts minimal stress on the joints. This makes it a suitable workout option for all fitness levels, including those with joint concerns or those recovering from injuries. Despite being low impact, it's still a high-intensity workout that can help build strength and endurance over time.
Cardiovascular and Muscular Benefits: Rowing machines provide an excellent cardiovascular workout, enhancing heart and lung function, and increasing overall stamina. Moreover, because of the resistance element, rowing also promotes muscular strength and endurance, contributing to improved muscle tone and definition.
Calorie Burning: Rowing is a powerful calorie-burning workout. Because it involves multiple muscle groups simultaneously, it expends a significant amount of energy, helping to burn calories and promote weight loss.
Flexibility and Accessibility: Rowing machines can be used at any time, regardless of the weather outside, making it an extremely convenient and consistent form of exercise. With modern machines offering various resistance levels, rowing can be adapted to all fitness levels, from beginners to elite athletes.
In addition to the physical benefits, rowing also promotes mental well-being. The rhythmic nature of the rowing motion can have a meditative effect, helping to reduce stress and improve mental health.
In conclusion, the combination of cardiovascular, strength, low impact, calorie-burning, and mental health benefits makes rowing a fantastic, all-encompassing workout option.
Key Things to Consider Before Deciding Which Rower is Best for You
When you're shopping for a rowing machine, there are several factors you should consider to ensure you make the best choice for your personal needs and preferences:
Fitness Goals: Your individual fitness goals should guide your selection process. If you're looking to lose weight, a rower with high-intensity workout programs might be ideal. If your goal is to build muscle strength, look for a machine that offers robust resistance options. For general fitness and endurance, most rowers will suffice.
Budget: Rowing machines come at a wide range of prices, from budget-friendly options to high-end models. Consider how much you're willing to invest in your fitness equipment. Remember, a higher price doesn't always mean better quality, but often corresponds to more features.
Space: The dimensions of the rowing machine and the space available in your home are critical considerations. Some rowers can be folded for storage, while others are more compact. Always measure your space before making a purchase.
Type of Resistance: Rowers come with different types of resistance: air, water, magnetic, or hydraulic. Each offers a unique feel and has its own set of pros and cons. Water and air rowers provide a more realistic rowing experience, but can be noisier. Magnetic and hydraulic rowers are quieter, but may not give the same rowing feel.
Interactive Features: If you prefer guided workouts or want to compete in a virtual environment, consider a rower with interactive features. Many rowers now come with screens for following live or pre-recorded workout sessions. However, this usually involves an ongoing subscription cost.
Ergonomics: The rower's seat, handle, and footrest should be comfortable and adjustable to your size. Improper ergonomics can lead to discomfort or injury over time.
Durability: Look for a rower that is well-built and durable. Check user reviews to get a sense of the machine's longevity and performance over time.
Warranty and Customer Support: A good warranty can offer peace of mind with your purchase. Additionally, strong customer support ensures you'll get help quickly if any issues arise with your machine.
Ultimately, the best rowing machine for you depends on your personal preferences, fitness goals, and constraints. Consider all these factors carefully before making a decision to ensure you're choosing a machine that you'll enjoy using consistently.
Different Types of Rowing Machines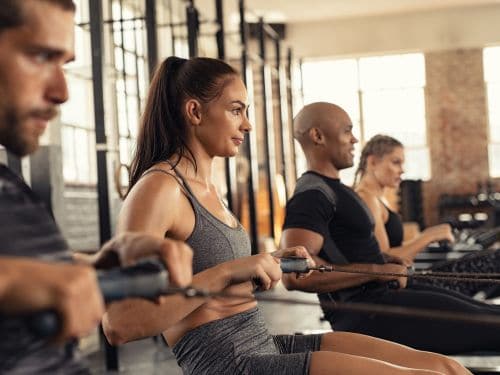 There are four main types of rowing machines, each differentiated by their resistance mechanism:
Air Rowing Machines
Water Rowing Machines
Magnetic Rowing Machines
Hydraulic Rowing Machines
Air Rowing Machines use a flywheel to create resistance. The harder you pull, the more resistance you feel. This makes for a very dynamic and natural-feeling workout. Air rowers can be loud because of the spinning flywheel, but they are very popular because of their smooth, continuous motion. The Concept 2 is a prime example of an air rowing machine.
Water Rowing Machines use a tank of water and paddles to create resistance. Like air rowers, the resistance is dynamic – the harder you pull, the more resistance you feel. Water rowers are generally quieter than air rowers, and many users enjoy the "swishing" sound the water makes as it mimics the experience of rowing on a lake or river. The WaterRower and Ergatta machines are examples of water rowing machines.
Magnetic Rowing Machines use a magnetic brake system to provide resistance. This allows for a virtually silent operation and a resistance level that remains consistent, regardless of how fast or slow you row. The resistance can typically be easily adjusted with a dial or digital controls. The downside is that the rowing motion may feel less natural compared to air or water rowers. Examples include the Aviron and Echelon rowers.
Hydraulic Rowing Machines use one or more hydraulic pistons to provide resistance. These machines are usually compact and budget-friendly, but the rowing motion can be less smooth and natural than other types. This category includes some models of the ProForm rowers.
Each type of rowing machine offers unique advantages and drawbacks, and the best choice depends on your individual preferences, space constraints, and budget.
Final Thoughts
Choosing the best rowing machine involves a careful consideration of various factors, including your fitness goals, budget, available space, and personal preferences. The best rowing machine for you is one that meets your needs, fits within your budget, and is something that you'll enjoy using consistently.
All of the rowers we have listed, including the Hydrow, Aviron, Echelon Rower, Ergatta, NordicTrack, Peloton Row, Concept 2, and ProForm, bring their unique strengths to the table, offering a wide range of options to suit different user preferences and goals.
Remember, the key to achieving your fitness goals isn't just the machine you choose, but your commitment to using it regularly. Even the highest-end rowing machine can't help you improve your fitness if it sits unused.
Investing in a rowing machine can be a significant decision, and we hope that this guide has provided useful insights to help you make an informed choice. As you embark on your fitness journey, remember to enjoy the process and celebrate your progress along the way.
Happy rowing!
Rowing Machine FAQs
What is the best rowing machine for home use?
The best rowing machine for home use depends on your available space, fitness goals, and budget. High-end models like the Hydrow, Peloton Row, and Ergatta offer interactive features, but at a higher cost. More affordable options like ProForm and Concept 2 offer excellent functionality and durability.
Are rowing machines worth it?
Yes, rowing machines are worth it. They offer a full-body, low-impact workout that targets up to 85% of your muscles, improving both cardiovascular and muscular fitness.
How long should a beginner row on a rowing machine?
Beginners should start with shorter sessions, about 10-15 minutes at a time, gradually increasing duration and intensity as their fitness improves.
How much space do you need for a rowing machine?
Most rowing machines require a space of around 9 x 4 feet. However, some models are compact or foldable for easier storage.
Is rowing better than running?
Rowing and running are both excellent cardiovascular workouts. However, rowing is low-impact and engages more muscle groups, making it a more efficient workout for some people.