In order to keep our content free, we may earn a commission from the companies mentioned in this post.
On your mission towards living a healthier life, you have to make some important decisions. For instance, are you going to the gym? Or do you prefer to workout at home? If you choose the latter option, you open yourself up to a lot of choices. Not only do you get many different types of home exercise equipment, but you also get wide ranges of equipment.
This is especially true for home exercise bikes. And one manufacturer that stands out is Bowflex.
In this article, we are going to compare two of the most popular models under the Bowflex brand, namely the VeloCore and the C6. If both models caught your attention but you are not sure which one is a better fit for your workout needs, stick around.
All the critical details are included in our Bowflex VeloCore vs Bowflex C6 comparison.
Bowflex VeloCore Vs C6: Features Battle
It should be made clear from the very beginning that both exercise bikes have a lot to offer. And both feature a sleek design for an appealing finish. If your core focus is to get fit, trust in both bikes to help you with this goal.
However, we are all different. And you should make sure you buy the equipment you look forward to using every time. Here is an overlook of features for the C6 and VeloCore.
C6 Feature List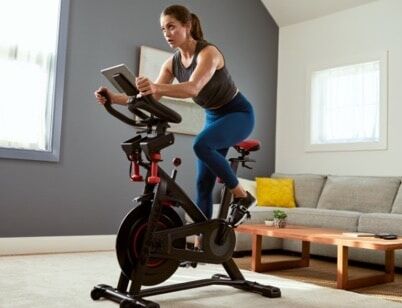 Regardless of your level of training, the heavy flywheel ensures you get a decent workout. From beginners to experienced cyclists will appreciate this feature.
Multiple Resistance Settings
The magnetic resistance system used for the C6 allows you to make 100 micro-adjustments [1]. This makes for some very specific training. The best part is that you get a smooth ride without any noise.
Even though the C6 does not come with an HD touchscreen monitor, you can expect an LCD console that captures the basic information of your session. If you have a tablet that you want to use, a special holder for the tablet is part of the design. It also includes a media shelf.
Included with the bike is an armband for specifically tracking your heart rate. And do not worry about any wires getting in the way because the armband functions via a Bluetooth connection.
Even though the C6 only provides a single-mode workout, you are still at liberty to make several adjustments. These include the dual-link pedals, the seat, and you receive two 3-pound dumbbells.
Unfortunately, there is no direct internet connection for the bike. But you can connect to it via Bluetooth, giving you access to fitness apps like Peloton.
VeloCore Feature List
One feature that truly helps the VeloCore model to rise above the rest is the ability to switch training modes. You can either use it as a non-moving stationary bike. Or you can activate the "lean" mode. This is when you actually lean to the side as if you are taking a corner.
Things only get better when you add the high definition display. Although, there are two different models in this regard. You can opt for the smaller 16-inch display, which still provides an immersive experience. Or you can go with the big 22-inch screen for an even deeper virtual journey.
FEATURED ARTICLE: Bowflex VeloCore Reviews
Direct Internet Connection
While the VeloCore exercise bike does have Bluetooth, it also comes with built-in Wi-Fi. Combined with the fantastic display, it could not be easier to access your favorite fitness app and start training. Unlike the C6, you do not require a third-party device.
One thing the C6 and VeloCore models have in common is the resistance settings. With no less than 100 micro-levels of resistance, you will always be able to challenge yourself in a very specific way.
As mentioned, the C6 is able to connect to popular fitness apps. But it cannot access the JRNY app offered by Bowflex, which is something the VeloCore can. This particular app introduces you to everything from adaptive workouts to virtual coaching. But it goes a few steps further.
In addition to immersive virtual training, you can access your favorite streaming platforms through the HD display with a JRNY subscription.
Another feature the two bikes share is adjustability. You can also adjust the seat and dual-link pedals of the VeloCore, while you receive a Bluetooth enabled armband for tracking your heart rate. Of course, the two 3-pound dumbbells form part of the package.
Workout Head-to-Head: Do Both Bikes Work With Peloton?
Yes, both exercise bikes deliver in terms of virtual training. For those that do not know already, Peloton is incredibly popular, along with apps like Zwift and Explore the World.
However, the C6 requires a third-party device if you want to connect to the internet, whereas the VeloCore provides a direct connection.
But the latter model gains the edge thanks to the JRNY app.
Lean Mode vs Traditional Mode
As mentioned, you are bound to burn calories with a stationary single-mode bike. But if you can expand your training, why not? The Velocore's design is revolutionary and unique because it takes the immersive experience to the next level.
When you are able to lean, you activate different muscle groups and make them part of the workout. Thus, there are two benefits when using the "lean" mode. It feels much more realistic while you amp up your training.
Combine the ability to lean and "take corners" with the magnificent display in front of you, then you just need the wind in your hair to complete the picture. The truth is that cycling does not get better than this. At least not until Bowflex adds another innovation to a winning design.
Price Compare: Which Bike is Cheaper?
It is not surprising that the C6 model comes in at a lower price-point, which is $999.00. In fact, it is one of the most affordable designs when you consider the quality of the bike. The 16-inch display VeloCore model costs $1,699.00, and the 22-inch display design $2,199.00.
Yes, even the "luxury" models from Bowflex can be considered affordable, especially when you consider all the features. At first glance, the difference in price can appear substantial. But you quickly realize how the features of the VeloCore model balance things out.
See current prices at Bowflex website.
Summary: How To Pick The Right Bowflex Bike For You
All this information could be a little overwhelming. So, here are some important questions to help summarize and gain perspective.
How much can you afford to spend?
Do you want the most immersive experience?
Are you eager to tap into the JRNY app?
When you are working with a strict budget and you have a tablet you can use as a display, you will not be disappointed with the C6 model.
It is well-built, durable, compact, and it helps to burn a lot of calories. But from a personal point of view, we think the extra money for a VeloCore model is definitely worth it.
Not only can you take in-door cycling to the next level, but you can do it while streaming your favorite shows from Netflix and Hulu. It does not require a third-party device for internet connection, which also makes it more convenient.
Both models from Bowflex can be considered a quality purchase. It is just a matter of choosing one that speaks to your needs.
The C6 presents a basic approach, whereas the VeloCore inspires you to go the extra mile, literally.
Resources
Ethan Ellingson, Bowflex C6 Bike Reviews, Dynasystech.com/bowflex-bike-review/