In order to keep our content free, we may earn a commission from the companies mentioned in this post.
The exercise bike has always had its share of fitness enthusiasts' attention. After all, it offers a very low impact workout alternative to the very demanding requirements of a treadmill.
Now, with more smart workout equipment being introduced than ever before, exercise bike enthusiasts have their pick of connected bikes. The hardest part is choosing between some of the value-packed offerings available. Two brands and models that have really stood out in the growing marketplace are Bowflex and Echelon. Echelon's Smart Connect Bike and the Bowflex C6 both have a lot to offer fitness enthusiasts.
By the end of this article, you should be able to make a well-informed decision on which bike is right for you.
1. Bowflex C6 vs Echelon Smart Connect Features Comparison
Bowflex C6 Features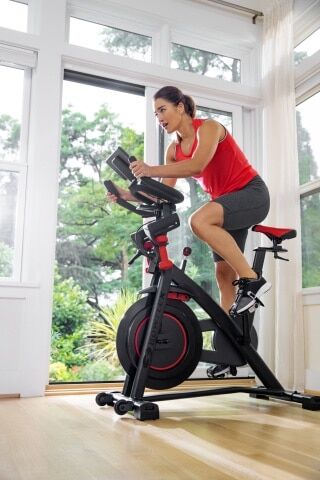 The Bowflex C6 is a value-packed offering like most other Bowflex fitness products. Bowflex only offers a single model of smart bike. The C6 model is a bike made up of premium-grade materials.
Perhaps the best part about the C6 is the brand-agnostic approach they took with it. Bowflex ensured they gave their consumers the choice to be able to pair and use the bike with either the Peloton App, the Zwift App, or the Explore The World App.
There are other third-party app integrations that you can choose from, as well.
Bluetooth
Works with a variety of different apps and services
LCD Metric Console
Magnetic Resistance With 100 Micro-Adjustable Resistance Levels
Dual Link Pedals along with Toe Cages
Heart Rate Armband Monitor (with Bluetooth Compatibility)
See all Bowflex Features at their Website.
Echelon Smart Connect Features
Echelon offers a full range of Smart Connect bike models to choose from in different price ranges. Therefore, you have many more options to choose from allowing you to get precisely what you want and need.
1. Connect EX-1 Bike
Magnetic Resistance (32 levels)
This bike features an adjustable console that flips 180 degrees.
Precision Resistance Motor
Ergonomic Adjustable Handlebars
2. Connect EX-3 Bike
New Indexing Resistance Adjustment Knob that features Magnetic Resistance (32 levels)
This bike features an adjustable console that flips 180 degrees.
New Motor for Precise Magnetic Resistance
Ergonomic Adjustable Handlebars
Added new features including brand new handheld rack on the side of the seat and brand new lightweight triangular tubing
3. Connect EX-5 Bike
New Indexing Resistance Adjustment Knob that features Magnetic Resistance (32 levels)
New Smart Device Mount that Flips 180 degrees
New Motor for Precise Magnetic Resistance
Competition Aero Handlebar System For Better Adjustments
2 mounted bottle holders, weight rack located behind the seat to hold dumbbells
4. Connect EX-5s Bike
New Indexing Resistance Adjustment Knob that features Magnetic Resistance (32 levels)
New 21.5" High-Definition Display that is capable of flipping 180 degrees
New Motor for Precise Magnetic Resistance
Additional 2 mounted bottle holders, a weight rack located behind the seat, new kick guards on the frame, and new back and front power ports
See all Echelon Bike features at their website.
Where Bowflex Shines With Features
Bowflex Offers 100 resistance levels to choose from. Bowflex is well known for having some of the best resistance technology for optimized fine-tuning for your workouts.
Dual-Link Pedals
Bowflex managed to make a seemingly insignificant design choice a major one. The dual-link pedals make riding the bike extremely comfortable and they give you much more control as a rider.
Where Echelon Smart Connect Bikes Shine With Features
Live and On-Demand Streaming
Echelon's Ecosystem for its bikes is unparalleled when compared to Bowflex's. After all, with the Bowflex, you need to invest in a third-party app with limitations. With Echelon's bikes, you get a fully-fledged and comprehensive selection of Live or On-Demand workouts with full compatibility with any of their smart bikes.
Competition Seating and Handlebars with Full Adjustability
Echelon put a lot of thought into their seats and handlebars. You will get this with every bike with the exception of their EX-1 budget entry bike. Having a seat that you can make 6" level-style adjustments can allow you to find the perfect seated position for your intense workouts. Likewise, the bikes EX-5 and Ex-5s offer both a performance or comfort setup for its handlebars allowing you to really get the biking experience you want out of it.
Option for High Definition Display
This is something you cannot even get with the Bowflex C6. If you choose to go for the EX-5s, you get a stunning 21.5" high definition touchscreen display that can make your workouts extremely immersive.
Features Winner: Echelon Smart Bike
2. Workout Comparison
Bowflex C6 Workout Options
The Bowflex C6 has the advantage of working with multiple fitness apps including Peloton, Zwift and Explore The World. While this provides a major advantage in flexibility, it does come with its own drawbacks. Unfortunately, because the Bowflex is not designed by Peloton, you are limited in functionality and compatibility. Unfortunately, when you don't have a Peloton branded bike, you won't get the same experience as other Peloton users. For instance, you will lack access to the leader boards and you will need to pay for a subscription in order to gain access to On-Demand classes.
Echelon Smart Connect Bikes Workout Options
With an Echelon Smart Connect Bike, you are getting a fully-fledged and fully compatible bike with Echelon's industry-leading bike app experience. With a Smart Connect Bike, you are going to be able to take advantage of all the Bike App has to offer with full compatibility. With it, you can experience Live classes and see yourself on the leader boards giving you extra motivation to push yourself harder. Likewise, you get access to On-Demand classes and workouts.
Winner: Echelon Smart Connect Bikes (Comprehensive ecosystem with no limitations)
3. Price Comparison: Is Echelon or Bowflex Cheaper?
Bowflex C6 Pricing
The Bowflex C6 is available in a single model priced at $999.00.
Check current Bowflex pricing.
Echelon Pricing
Echelon Smart Connect Bikes start at $839.98 for its entry-level model and go all the way up to $1,639.98 for the high-end model.
You have the option to go for something slightly cheaper than the Bowflex with comparable features. However, you have the ability to get a higher-end EX5S model that comes with the better build quality and a stand out 21.5-inch high definition display which you won't find in the Bowflex C6. This makes your Live or On-Demand workouts much more immersive and captivating than ever before.
Pricing Comparison Winner: Echelon Smart Connect Bikes
4. Summary: Which Bike Should You Buy?
While both of these options deliver excellent connected workout experiences in their own right, the Echelon Smart Connect Bikes offer a seamless experience you won't be able to get with the Bowflex. While the Bowflex C6 does offer a lot of what you would get out of a Peloton at a reduced price, you lose certain desirable features by using it with the Peloton App.
If you are looking for something that is compatible with a range of workout apps including the Peloton App, it's a good option and the preferred one over an Echelon bike. However, if you are looking for the most comprehensive workout solution and the best smart connected bike with the best all-around experience, the Smart Connect series is hands down the better option.
You should get the Bowflex C6 if…
You absolutely need third-party app integration and you want to use the Peloton App
Learn more and see current Bowflex Bike prices.
You should get an Echelon Smart Connect Bike if…
You want the cheapest bike
You want a high definition and immersive display and you are willing to pay for it
You want the best selection of On-Demand and Live workouts with no features lost