In order to keep our content free, we may earn a commission from the companies mentioned in this post.
Are you in the market for home workout equipment? Many people are investing in home workout equipment for the added convenience and accessibility it offers. With many living busy lives, finding time to go to the gym has become even more difficult.
Luckily, fitness brands are stepping their game up and providing consumers with better options than ever before. Two of the stand out brands in the home fitness industry are Bowflex and NordicTrack. Each offers compelling options that you may want to consider if you are shopping for home fitness equipment. The hardest part really comes down to choosing between the two competing brands.
However, there are clear differences between the two that should help you find the right one for yourself. Below, you will find information on the competing brands to figure out which equipment you should spend your hard-earned money on.
Bowflex vs NordicTrack: Equipment Comparison
Bowflex Equipment Options
Max Trainer
C6 Exercise Bike
LateralX
Complete Home Gyms
TreadClimber
SelectTech Free Weights
Treadmills
Ellipticals
and more
What is Bowflex Known For?
As you can see, BlowFlex has expanded to offer a lot of different home workout machines. At its very beginning stages, BowFlex started offering strength training and resistance training machines primarily designed to build-up muscle.
\These machines were meant to completely replace the need for a home gym being able to do over a certain number of exercises using a single piece of equipment. They have since expanded to offer a lot of cardio-focused equipment including their standout TreadClimber machine.
They also happen to have the SelectTech series which NordicTrack has no answer for. These are adjustable weights delivered in a compact system.
They offer dumbbells, barbells, and even Kettlebells for substitute free weight training without having to invest in clunky and spacing wasting free weights.
NordicTrack Equipment Options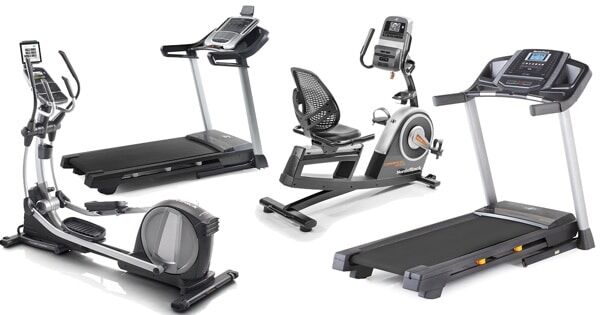 Treadmills
Exercise Bikes
Ellipticals
Strength Training Machines
Rowers
and more
What is NordicTrack Known For?
NordicTrack is known for its cardio-machines. It really started out producing some of the most innovative and feature-packed treadmills on the entire market. Their treadmills have been giving industry-leading incline and other features for years and years.
They have since expanded to offer a range of cardio-focused machines including ellipticals and exercise bikes. However, they also have their own line of strength training machines including the feature-packed Fushion series which offers a 3-in-1 workout experience featuring cardio, strength, and rack included.
See all NordicTrack equipment options at Amazon.
Workout Comparison: Which Brand is More Complete?
Any consumer buying a home workout machine in today's digital landscape is likely going to want smart integration included. Luckily, both of these brands offer feature-rich smart integration for better and more immersive home workout experiences.
They do have key differences in the way you will be experiencing your workouts. Therefore, you have to decide whether or not the compromises or the trade-offs are worth the potential cost savings.
You also want to decide whether or not you want to remain in a single ecosystem for better value and cohesion or if you want the flexibility of being able to choose from different apps and experiences.
Bowflex Workout Options (Live + On Demand)
For anyone that is interested in a Peloton due to the Peloton experience, you can get a Bowflex exercise bike with Peloton integration at nearly half the price. This is one major advantage of Bowflex over NordicTrack. Likewise, you can even take advantage of built-in Zwift app compatibility for those who want to use that app.
JRNY Trainer and Treadmill Integration
Also, Bowflex offers it's very own Bowflex JRNY app. This app was designed for and optimized for Bowflex Max Trainer and Bowflex Treadmills. Through the app JRNY, users are able to input their own fitness levels and as you continue to workout with it, you will get automatic adjustments as you continue to improve in your workouts. The app also provides personalized workouts on a daily basis that will help you reach your workout goals.
Main Features of JRNY:
Virtual Coaching
Trainer-Led Workout Videos
Real-World Maps For An Immersive Workout Experience
Bowflex Radio
Fitness Assessment For Personalized Workout Recommendations
Achievements to Celebrate Milestones
See all Bowflex workout options at their website.
NordicTrack Workout Options (On Demand via iFit)
NordicTrack offers full iFit integration for interactive personal training at home. With an iFit subscription, you get access to expert trainers with world-class training, you get access to motivational workouts and dynamic training styles.
With iFit, you get access to world-class trainers and a variety of different types of workouts so you never get bored. Perhaps best of all, you get access to GlobeTrek Workouts which allows you to immerse yourself in interesting terrain.
This can encourage you to take your workouts to the next level and give you the motivation you need to continue to explore exotic locales.
iFit Features
LiveCast Workouts With World-Class Trainers and Other iFit Members (feels like you are working out in a real studio
GlobeTrek Workouts For Immersive Workouts
Coach App To Create Custom Workout Schedules, Track Meal Plan, and Track Your Activity and Sleep
See all NordicTrack equipment options at Amazon.
Price Comparison: Is Bowflex or NordicTrack Cheaper?
As far as price is concerned, each brand is pretty comparable. Each has a range of products in each category that could accommodate different budgets. When it comes to their immersive offerings, the Bowflex does happen to beat NordicTrack. For instance, the NordicTrack Commercial S15i Studio Cycle starts at $1,599. Whereas, the Bowflex Bike starts at $999 which is a $600 difference. Because the NordicTrack comes with a year subscription of iFit membership included and you have to pay $156 for the Peloton Digital app subscription, you will save around $444 opting for a Bowflex bike with Peloton integration.
The main reason Bowflex is able to provide their immersive bike experience at such a reduced price has to do with the Bowflex bike having compatibility with the Peloton app. Because of this, you can use your own smartphone or tablet instead of having to get a bike with a built-in 14-inch HD touchscreen like the NordicTrack S15i Studio bike.
Obviously, it is only going to be the cheaper solution if you already have a compatible device that you will be able to use along with the bike.
Summary: Is NordicTrack or Bowflex Better?
Each of these well-respected brands has a lot to offer. If you are interested in buying home exercise equipment, you really cannot go wrong with a product from either brand. While Bowflex has more expertise in producing strength training equipment and NordicTrack has spent a lot more time in the cardio-machine arena, they have since expanded in a big way.
What it really comes down to is the type of experience you are looking to have. Bowflex really delivered great value by getting Peloton compatibility with their exercise bike.
However, NordicTrack went in-house and developed one of the most comprehensive and immersive workout experiences that work across their entire line of products.
Because of this, NordicTrack is likely the home workout equipment you want to invest in. After all, you get full integration with iFit if you ever decide to expand your home workout equipment in the future and you don't have to make the compromises that you have to with Bowflex and the Peloton app.
You should get a Bowflex if…
• It's cheaper and you are looking for the lowest possible entry point.
• You absolutely must have the Peloton experience.
• You are looking primarily for strength training equipment.
You should get a NordicTrack if…
• You want the superior and more comprehensive smart integrated workout experience.
• You are going to be expanding your home workout gym in the future and you want full iFit compatibility and integration.
• You want primarily cardio-focused equipment.
See all NordicTrack equipment options at Amazon.
Resources