In order to keep our content free, we may earn a commission from the companies mentioned in this post.
The workout mirror has become a new-age option for individuals wanting to workout from the comfort of their homes. Instead of dealing with sweaty machines, gym times, and other related issues, more and more people are leaning towards installing a workout mirror at home.
However, it is not easy to find a good fit based on what you require. It's easy to get lost dissecting each option and comparing it to your needs.
Keeping this in mind, it's time to compare two popular workout mirrors – Echelon Reflect and Tonal.
Features Comparison: Is Tonal or Reflect More Complete?
1. Echelon Reflect 40″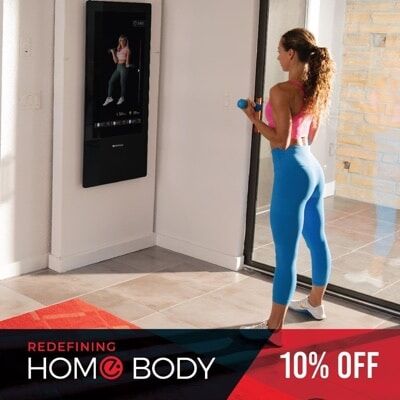 Live On-Demand Workouts
The built-in workout programs are exceptional, but Echelon Reflect goes above and beyond with its attempt to make sure the workouts are efficient. This includes providing live, on-demand workouts throughout the year that can be accessed at any moment.
These workouts are run by established instructors that understand how the Echelon Reflect works. Each workout is tailored to the mirror allowing users to maximize their results over the short and long-term.
When it comes to efficient workouts, these are some of the best for seeing results.
Heart Track Technology
Being able to track the heart is an essential advantage to have when it comes to working out. With a high-grade heart rate monitor, this includes everything an individual needs as they are powering through an arduous workout routine.
The benefits include:
Consistent tracking
Easier to maintain a steady heart rate
Real-Time data
It is these benefits that are a must for those who are trying to monitor what works and what doesn't. During a workout, the heart is going to fluctuate all the time, which means staying on top of this is essential.
Real-Time Stats
This mirror gym provides a fascinating selection of motivators when it comes to pushing an individual to work out harder. However, it is the built-in real-time stats that are a unique feature to follow.
The app provides a way to see how you are doing, how you are progressing, and how it compares to others around the world. It can be a game-changer for anyone that is hoping to work out the right way and continue to progress.
2. Echelon Reflect 50″ (Touchscreen)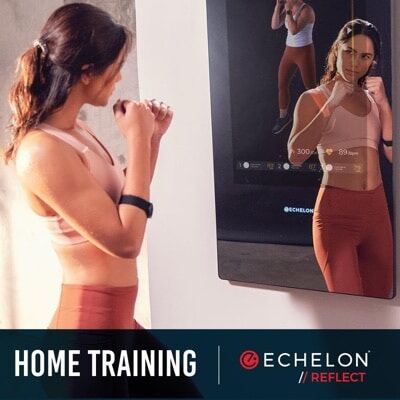 Touchscreen Capability
One of the more distinctive features this mirror gym has is the touchscreen. This is a wonderful feature for those who want to walk up to the mirror gym, scroll through the workouts, and pick the one that works best for their needs without taking out the smartphone.
The simplicity of something like this is empowering and it does impress those who want to make use of a high-end screen whenever they get the chance to do so.
Long List of Workouts
Each individual is going to have a unique perspective when it comes to working out. There is nothing worse than being put into a tough position when it comes to working out effectively. With this solution, the workout is straight to the point.
Each workout is tailored based on what muscles are being targeted or what the intended goal is.
The benefits include:
Well-rounded workouts
Target different muscle groups
Simplifies picking a workout routine
Having something as structured as this can be a game-changer when it comes to working out properly. Echelon has taken the time to create a robust selection of equipment that do help with targeting different parts of the body effectively.
Reflect Leaderboard
The built-in leaderboard through the membership program is great. It is ideal for those who want to see how they are comparing to others around the world. This leaderboard is also perfect when it comes to getting your competitive juices flowing again.
By taking a look at your real-time stats, it becomes easier to make adjustments and push harder than before.
3. Tonal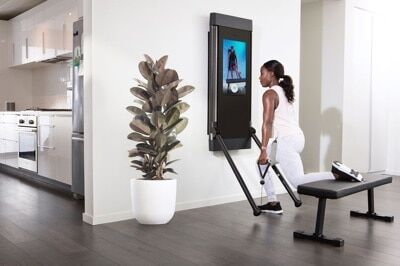 Bluetooth Enabled
The Bluetooth connectivity is a great feature with this high-quality mirror gym. Users can easily sync their devices with the mirror gym knowing things are going to work as planned.
This makes it easier to handle a workout session in front of the mirror gym.
The Bluetooth technology is easy to sync to, fast, and effective in different situations. The simplicity is what makes this a high-powered quality for a modern-day mirror gym.
15W Stereo Speakers
The powerful 15W stereo speakers are crystal clear as soon as the workout begins. These booming speakers can be controlled through the built-in volume panel, but can easily spread throughout the workout area as needed.
For those who are going to be following a workout program, it makes sense to have high-quality stereo speakers shouting instructions at you.
These stereo speakers are some of the best in the fitness industry highlighting the brand's attention to detail in this regard.
200 Lbs of Digital Weight
The amount of weight a person can push through this mirror gym goes up to 200 lbs. This is ideal for anyone that is hoping to add as much resistance to their workouts as possible without having to add new equipment into the mix.
Whether it is dumbbells, plates, or cable machines, it can add up rapidly.
This is why Tonal has taken the time to offer up to 200 lbs. of resistance for those who want to crank things up a bit. It adds value to those who want to progress properly.
Workout Comparison
1. Echelon Reflect Workout Options
Meditation
Cardio
Strength Training
Tone
Core
Pilates
Barre
Boxing
Zumba
Stretching
And More
The Echelon Reflect is all about providing a comprehensive list of workouts whether it's working out the arms, building strength, or stretching. Each workout is tailored based on what an individual would require to see consistent results.
With the live, on-demand workouts, there is something for everyone making this an ideal option for anyone serious about working out the right way. Their program continues to be updated throughout the year to make sure the workouts are in tune with what an individual requires.
See all Reflect workout options at their website.
2. Tonal Workout Options
Yoga
Cardio
Strength Training
Critical Mass
Ultimate Arms and Abs
Building Basics
Take a Hike
Pump it Out
And More
Tonal takes a unique approach to workouts by offering specialized sessions. These are created in-house as a way to make sure the user can get more value from the workout session. You get to learn how to complete each movement and how the machine works.
Price Comparison: Is the Reflect or Tonal Cheaper?
Echelon Reflect 40″ – $1,299 + Shipping
Echelon Reflect 50″ (Touchscreen) – $1,999.00 + Shipping
Tonal – $2,995 + Shipping
Summary: Which Connected Workout Mirror is Better?
Workout mirrors are all the rage right now, but which one is right for you? Between these, you are going to be spoiled for choices, but it comes down to which one has the better overall package. In this regard, the Echelon Reflect stands out just a bit more.
What makes the Echelon Reflect a preferred option in this comparison? It has a lot to do with the wide array of features combined with a reasonable price point. Being able to work through the different fitness options and pairing them with other equipment (i.e. exercise bikes/rowers) is a game-changer. This is something Tonal isn't able to offer right now.
If you want a well-rounded and well-designed workout mirror then it doesn't get better than the Echelon Reflect. This is a power-packed workout mirror that has all the perks necessary to make you happy.