In order to keep our content free, we may earn a commission from the companies mentioned in this post.
When it comes to fitness, it's not often that you hear the term "gam changer" thrown around. It takes a lot these days to really shake up the industry, but somehow one company continues to do just that – and they're called Echelon.
Just when you thought they couldn't upset the competition again – after the release of their top selling "smart" rowers, Reflect, and bikes – they've gone and done it again with their brand new connected treadmill.
It's called the Echelon Stride, and while it's literally just hit the market, it's already making waves with it's sleek design, easy-fold storage design, and large library of live and on demand running workouts.
So why are we qualified to introduce you to this new "smart" tread? Well, we're a team of fitness experts, and have a passion for all of the equipment we test and review. We're Echelon owners ourselves, and take pride on giving you fair and accurate information.
Here's our review of the Echelon Stride, so you can decide if it's the right connected treadmill for you…
Why Should You Buy an Echelon Stride?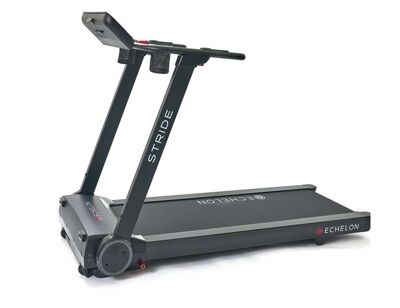 Before we dig into why we think you'll want to buy the Echelon stride, let's quickly start with what it is. The Stride is the first treadmill release from the fine folks at Echelon, and like they've been known to do with their other fitness equipment offerings, it's fully connected. That means you can stream live and on demand treadmill workouts from the Stride.
All that's needed is the tablet of your choice – I prefer the iPad, but you're welcome to use whichever option you see fit.
We think you should buy the Stride, if…
You want access to live and on demand treadmill workouts
You want a connected treadmill that's affordable
You want a connected treadmill that's easy to store
You want a tread that is compact, sleek, and has a small footprint
You want a treadmill that is high-quality, has a comfortable running platform, and looks good enough to display in your home.
Ready to take your treadmill workouts to the next level?
Connected "Smart" Workouts?
In typical Echelon fashion, the Stride is connected like the rest of their equipment. That means you can stream live and on demand workouts, from the comfort of home.
Echelon workouts are led by world-class instructors, who are there to keep you motivated, engaged, and on track to reach your goals.
If you're looking for amazing instructor-led treadmill workouts from the your home, then you will definitely want to put the Echelon Stride at the top of your list.
On top of that, you can compete with your friends and family should you choose, and you only need one app subscription for all Echelon equipment. Have a bike, and want to buy the Stride Treadmill? You'll be covered and have access to amazing treadmill workouts through the Echelon App.
Does it Have a Built-in Screen or Do You Need a Tablet?
As of now, you will need to supply your own tablet to stream Echelon workouts with the Stride. They may offer a model that features a built-in HD screen in the future, but for now it BYOT – bring your own tablet.
That's not all bad though – this helps keep the cost of the Stride low, and allows you to use any device that you see fit. That means iPad, Android, or Amazon devices.
Is the Stride Easy to Store?
The Echelon Stride is very easy to store. In fact, they went to great lengths to make this possible through an "easy-fold" design. This means you can tuck your Stride out of the way quickly and easily, or get it out easily too for a quick workout.
This is great news for those who live in apartments or condos, or just don't have a ton of room in their homes for fitness equipment.
That said, we think the Stride looks so cool, you'll be happy to have it out as a display piece when your friends or family come over.
Assembly Instructions
There is a small amount of assembly required for the Stride, but Echelon strives to make that as easy as possible. I've personally assembled a Smart Connect, and had to mount my Reflect to a stand, and their instructions and videos made the process very straightforward and easy. Once they've released an assembly video for the Stride, we'll post it at the end of this post.
COMPARE: Echelon Stride vs NordicTrack Treadmills
Features & Specs
The Stride is packed full of features that you'd expect from a high-quality treadmill, and on top of that it's compact and doesn't take up a ton of room.
Here are some of the key features and specs you'll want to consider before buying:
Tablet Rack/Holder
Water Bottle Holders
Auto-Fold Technology
Minimum Speed: 0.5 MPH
Top Speed: 12 MPH
1.75 Motor Horsepower
Treadmill Weight: 156 LBS
Maximum User Weight: 300 LBS
Safety Stop Lanyard
Frame-Balanced Elastomer for Enhanced Impact Absorption
Live + On Demand Workouts
How Much Does the Stride Cost?
Do They Offer Financing?
Yes, Echelon does offer financing for qualified buyers. Should you apply and qualify, the monthly payments for the Stride were about $62 at last check.
Summary: Where to Buy
The Stride is the first treadmill release from the team at Echelon, and by all accounts they've hit another home run.
The Stride is a beautiful looking treadmill, is very easy to store, and best of all, provides access to instructor-led workouts from your home – all you need is a tablet and Echelon app subscription to get started.
If you're looking for a connected Treadmill experience that you can actually afford, then we are happy to recommend the Echelon Stride for your consideration – learn more below:
Keep Reading