In order to keep our content free, we may earn a commission from the companies mentioned in this post.
Given the fact that we are living in a pandemic, it is understandable that more and more people are choosing to avoid crowded gyms, in favor of working out from the comfort of their homes. A home gym also gives you the freedom to exercise at any time, without having to worry about the weather or your local gym's opening and closing times.
A good cardio workout helps boost the function of some of the most important organs in the body, including the heart, circulatory system and lungs, in addition to enhancing muscle development.
A top-of the line treadmill is one of the best pieces of gym equipment you can use to get a good cardio workout.
Today's advanced treadmills are designed to support "connected" workouts, making it possible for you to enjoy the most immersive workout sessions from the comfort of your home. With connected workouts you get to access live or on-demand trainer led workout programs and numerous virtual locations from all over the world.
When it comes to connected workouts, the Echelon Stride and NordicTrack treadmills are considered to be the best in their class.
While you may be forgiven for thinking that all these treadmills are more or less the same, you will be surprised to note that this couldn't be further from the truth. Some of the main factors that separate the Echelon Stride from NordicTrack's treadmills include, variety, features and pricing among others. This means that each option is ultimately designed with a specific type of buyer and user in mind.
To help you make an informed purchase decision, here's a comprehensive comparative overview of the Echelon Stride and NordicTrack T and Commercial series treadmills.
Echelon Stride vs NordicTrack: Features Battle
Echelon Stride Key Features
The Echelon Stride comes in a compact, space saving design. This compact design is one of the main reasons why this treadmill is so popular among apartment dwellers. If you have limited space at home, there is no need to worry as this treadmill has a small footprint when set up. It also folds down into an even smaller package for easy and convenient storage when not in use!
The Echelon Stride is easy to fold down and store away in tight spaces, thanks to its auto-fold design and light weight nature. To fold the treadmill down, just start with the display console and then the arms. Once folded, the treadmill can be stored under the bed or against a wall standing upright.
Interactive Training Programs
Working out at home, on your own, might sound boring. However, with Echelon's interactive training programs (available via the Echelon App), which include guidance/coaching by trainers via streamed video, each training session will be different from the last.
If you are not satisfied with your purchase, Echelon also allows you to make a return and get your money back – less shipping fees – through their 30-day return policy.
NordicTrack Treadmills Key Features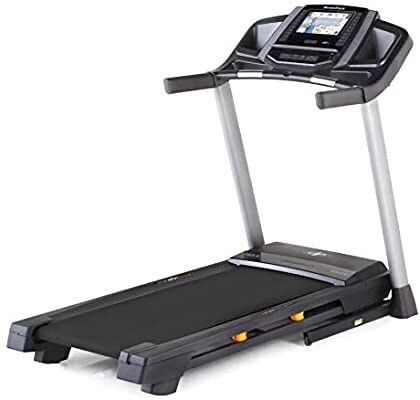 Wider Treadmill Variety Compared to Echelon
While echelon is new to the treadmills market, NordicTrack is a more established brand offering a variety of options to buyers, including their T-series and Commercial treadmill models. However, in terms of design, features and pricing, the T-series line is the one that is most comparable to the Echelon Stride.
Compact and Foldable Design
It is also worth noting that NordicTrack T-series treadmills are designed to be compact. However, measuring 78.5 inches in length by 35.5 inches in width, they have a substantially larger footprint than the Echelon Stride.
Even the most compact NordicTrack treadmills, the T-series, come with built-in HD touchscreen displays.
The Echelon Stride comes with a small console screen that only displays performance metrics. Users have to connect their own tablet and stream training videos through the Echelon App.
While they are bigger and heavier, NordicTrack treadmills are also considered to be more solidly built and powerful than the smaller and lighter Echelon Stride. NordicTrack T-series treadmills come with a 3.6 CHP drive system, while the Echelon Stride is fitted with a weaker 1.75 CHP drive system.
However, both the NordicTrack T-series and the Echelon Stride treadmills can reach a 12 mph maximum speed, and accommodate a 300 pound user weight limit.
To demonstrate the high quality nature of their treadmills, NordicTrack offers a one year labor, 2 year parts and 10 year frame warranty on its T-series treadmills. The Echelon Stride only comes with a 1 year labor and parts warranty.
Check current NordicTrack prices at Amazon.
Connected Workout Experience: iFit vs Echelon App
As previously mentioned, the Echelon Stride and NordicTrack T-series and Commercial treadmills are considered to be the best on the market due to the fact that they provide users with a connected workout experience.
NordicTrack provides users with an interactive training experience through the iFit platform. To gain access to this platform, uses have to pay an annual membership fee; membership for the first year of ownership is free.
NordicTrack's iFit membership gives you access to word renowned trainers, more than 16,000 on demand trainer-led workout videos, automatically controlled workouts and numerous virtual running locations across the globe via Google Maps. iFit also has stat tracking capabilities to ensure that users can monitor their daily performance and long-term progress. The Family membership gives you the freedom to add multiple users to a single account.
On the other hand, the Echelon Stride uses the Echelon App to provide users with the most interactive treadmill workout. Through Echelon's connected workout platform you can enjoy access to world class trainers, LIVE – not available on the platform used by NordicTrack treadmills – and on-demand trainer-led workout videos and performance tracking and sharing options.
If you don't feel like paying for the Echelon App membership, you can use the Echelon Stride's 8-built in workout programs to keep your workouts as enjoyable as possible.
REVIEW: Read our Echelon Stride Review
Price Compare: Is NordicTrack or Echelon Stride More Affordable?
The NordicTrack T 9.5s, which is the most comparable to the Echelon Stride, is priced at $1,999. Qualifying buyers can cover the payment in 36 equal monthly payments. It is worth mentioning that NordicTrack Commercial series treadmills are more expensive than the T series line.
The Echelon Stride on the other hand has a $1,338.98 starting price, which can also be paid in monthly installments. This makes it more affordable than its closest rival from NordicTrack.
Summary: Tips For Picking The Right Treadmill For You
From the above, it is clear to see just how different the Echelon Stride treadmill is from its closest rivals from NordicTrack. Each option is built for a very specific section of buyers.
Consider the Stride if…
If you want a treadmill that is compact and easy to set up and use in a small apartment, then the Echelon Stride is your best option. The treadmill is also easy to store away thanks to its lightweight nature and easy-fold design.
This treadmill is also great for any buyer who is looking for a reliable option that also makes it possible for them to enjoy interactive workouts – by giving them access to both live and on demand trainer led workouts – without breaking the bank.
Consider NordicTrack if…
On the flip side NordicTrack gives buyers a wider selection of treadmills to choose from; each one capable of giving users an immersive training experience through the iFit platform. Known for their high quality solid construction, NordicTrack treadmills are a great fit for anyone looking for a heavy duty option that is also relatively compact, foldable and easy to store away.
However, you should be ready to fork out a little bit more when buying the NordicTrack T and Commercial series treadmills. Fortunately though, the free iFit Family membership you get, for the first year of ownership, will help cushion the blow.
All in all, you should be able to identify the option that best fits your needs, between the Echelon Stride and NordicTrack T series and Commercial treadmills after reading the above.