In order to keep our content free, we may earn a commission from the companies mentioned in this post.
With the market offering a long list of exercise bikes, it's become important to decipher which ones are worthwhile and which ones aren't. Among modern options, there are two that appear to stand out the most – the Echelon Exercise Bike and the MYX Fitness exercise bike.
For those looking to find a good fit, it's time to pinpoint which one is perfect for your requirements.
Here is a detailed comparison of both exercise bikes, what they have to offer, and how to make sure you end up with the right one for your home.
Live & On-Demand Workouts: Is Echelon or MYX Better?
1. Echelon
Thousands of On-Demand Videos
24/7 Access to Streamed Classes
Trained Instructors
See all Echelon workouts at their website.
2. MYX Fitness
World-Class Coaches
Hundreds of On-Demand Videos
MYX Score Assessments
Heart Rate Zone Training
See all MYX Fitness Workouts at their website.
Both streaming options are great and the workouts are a joy to behold. Echelon has been around for a longer time and this has allowed the company to build out a comprehensive catalog of videos. However, MYX Fitness isn't too far behind and does offer a good list of videos too.
When compared to each other, both stand out, but the Echelon exercise bike does a little bit better. It has more workout videos and the streaming quality is better too.
This is a small difference but it is something to keep in mind for those who are trying to decide which one is best for their needs.
Our Top Pick? Echelon…
Echelon vs MYX: Features & Equipment Comparison
1. Echelon Features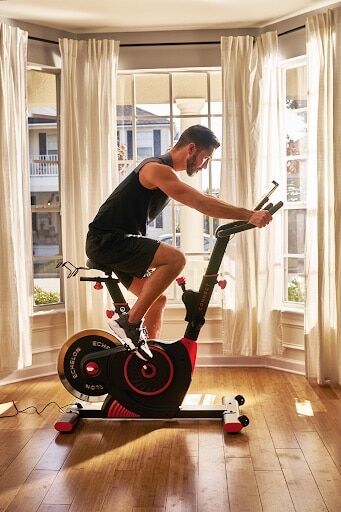 The Echelon models offer a wonderful selection of features and one of the more prominent ones includes the adjustable console. Whether it is the simple console or the HD touchscreen, adjustments can be made without missing a beat.
This is imperative for those going through a rigorous workout session while wanting to customize their experience.
With one of these bikes, users will know they can quickly make adjustments on the go without having to look away from the screen. This is a great way to manage a riding session while pushing through a grueling workout program.
32 Levels of Magnetic Resistance
Echelon takes pride in delivering a state-of-the-art magnetic resistance setup that's ideal for quick adjustments.
Riders will easily rotate through these resistance levels depending on how they are working out. Whether it is warming up on the lower settings or increasing the resistance, the smooth operating nature of these bikes will ensure the experience is a positive one.
Echelon has mastered the art of crafting top-tier magnetic resistance systems and this is seen throughout their catalog of equipment.
With access to thousands of videos and high-grade instructors, it's possible to start seeing appreciable results with the help of the Echelon exercise bike. The membership program is power-packed with great opportunities and will allow riders to maximize their sessions.
The benefits include:
Trusted Instructors
24/7 Access to Live Classes
Tailored Riding Sessions
Being able to progress and see great results is a must and it starts here.
The live + on-demand content is impressive and is something that is going to win riders over as soon as they begin to use it.
Wide Array of Cardiovascular Equipment Options
Along with the exercise bike models, it's also possible to add to your home gym through Echelon. The brand is a world-class fitness company and has grown over the years in fleshing out a full-fledged assortment of equipment options.
This includes a list of rowers and/or smart mirrors.
Take the time to look through these options to see whether or not they can be added to the mix. All of these items work well with the membership program too.
See all Echelon features and options at their website.
2. MYX Features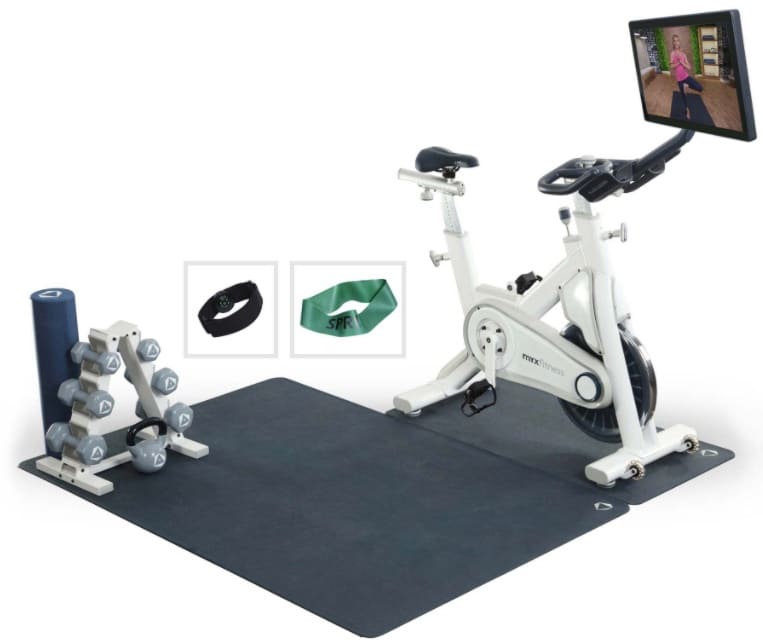 The sweatproof touchscreen is a major advantage for riders pushing through tough riding sessions. When it is time to toggle through the different settings, it's essential to have a fully functional touchscreen. This isn't always possible with other brands.
However, with the MYX Fitness bikes, riders gain access to a machine that will work well regardless of how much a person is sweating.
The touchscreen is always going to remain responsive and as effective as it needs to be for a great riding experience.
Polar OH1 Heart Rate Monitor
The heart rate monitor is a plus point for those wanting to regulate their performance throughout the workout session. Whether it is starting at a set heart rate or powering through intense segments of the session, it's always essential to have this type of heart rate monitor available.
The benefits include:
Real-Time Heart Rate Tracking
Easy to Make Adjustments
Consistent Readings
The heart rate monitor makes sure everything functions the way it needs to while delivering considerable results. The device's attention to detail and general quality is what impresses when the heart rate monitor settles into the background.
Mechanical Friction Braking Resistance
MYX exercise bikes use a unique friction braking system that is designed to further optimize a riding session and offer added control to riders.
Being able to power through a tough riding session requires a quality braking system. Otherwise, the rider will always feel out of control and helpless as the intensity ramps up during a session. In this regard, MYX takes the time to build something easy to operate.
The braking system always works well and continues to provide relief to riders as they go through the ups and downs of a workout. This is essential when a person begins to fatigue.
See all MYX prices at their website.
Price: Is Echelon or MYX More Affordable?
1. Echelon
EX-1: $839.98 (Monthly Subscription + Bike), $1,199.98 (Annual Subscription + Bike, 1,399.98 (Two-Year Subscription + Bike)
EX-3: $1039.98 (Monthly Subscription + Bike), $1,399.98 (Annual Subscription + Bike, 1,599.98 (Two-Year Subscription + Bike)
EX-5:$1239.98 (Monthly Subscription + Bike), $1,599.98 (Annual Subscription + Bike, 1,999.98 (Two-Year Subscription + Bike)
EX-5s: $1639.98 (Monthly Subscription + Bike), $1,999.98 (Annual Subscription + Bike, 2,199.98 (Two-Year Subscription + Bike)
See all Echelon pricing options at their website (financing available)
2. MYX Fitness
MYX: $1,499 + $29/Monthly (Membership)
MYX Plus: $1,199 + $29/Monthly (Membership)
Check current MYX Fitness prices
When it comes to pricing, both brands offer competitive rates based on the value that's available to riders. However, the Echelon exercise bikes are better priced and perfect for those working with a budget. Since the brand offers a multitude of models, riders can pick the one that is best for their budgetary needs.
Some may want to go with the Connect EX-1, while others are going to want a fully decked out model in the form of the Connect EX-5s.
Having this type of versatility available to you is a must and it is something Echelon does well as a fitness company. Their pricing options are versatile and allow buyers to pick out the one that is going to yield great results and still add value to their workouts.
Summary
Finding the right exercise bike is all about comparing features, understanding the positives, and investing in a solution that's perfect for your situation. With these two exercise bikes, you are picking between quality machines that have been built with a purpose.
While both are powerful, durable, and nicely set up, the Echelon exercise bike stands out as the real winner.
This has to do with the wonderful selection of biking options, affordability, and general quality that comes along with the Echelon exercise bike. If the goal is to invest in a purposeful machine that is going to work well in all scenarios then this is the way to go.