In order to keep our content free, we may earn a commission from the companies mentioned in this post.
Walking treadmills are becoming increasingly popular among the masses these days. They are sleek, easy-going, and a perfect entry point for those who don't want a full-fledged treadmill for their home.
The Fitnation Slim Line Walking Treadmill is one of those machines that has got people's interest. It's compact, refined, and promises to offer a cost-efficient solution for your home gym.
Does it do a good job? Is it an effective cardio machine and nothing more than a treadmill offering false promises?
This Fitnation Slim Line Walking Treadmill review will take a deeper dive into what the machine is all about and how it works before offering a verdict.
What is the Fitnation Slim Line Walking Treadmill?
The Fitnation Slim Line Walking Treadmill is a compact cardio machine designed to offer a comprehensive set of features and an enjoyable workout experience.
It includes multi-speed adjustments, a support bar, and a robust screen that provides routine information such as calories burned, distance, and speed.
Who Should Consider Buying One?
Purchasing a new walking treadmill means looking at the pros and cons.
In this case, you are getting a premier walking treadmill that's compact and perfect for different scenarios. It's recommended to consider going with a treadmill that will be a perfect fit and that's what you get here with Fitnation's compact treadmill.
There are several types of people that should be looking into what this machine has to offer and what makes it unique.
This is great for:
Beginners
People with Joint Pain
Consistent Walkers
Small Spaces
If you fit into one of these categories then the machine is going to be a success. It will work well and is going to provide refined results that are in line with what you are after. Take advantage of it and know you are heading in the right direction with your cardio workouts.
Here's a look at the Slim Line in action…
Ready to learn more?
Is it Easy to Store?
Indeed, the Fitnation Slim Line Walking Treadmill is easy to store.
It comes in at a measurement of 55″x25″x45″ (LxWxH) which is incredible for a modern-day treadmill. Based on market research, this is a staggering 10-20% difference in terms of how much space is saved with this machine.
For those who are living in tighter spaces, it is important to find something that is a good fit.
Not only is this going to fit in an average-sized apartment or a small room, but it is also easy to fold away. This makes it perfect for those who want to work out and then put the walking treadmill away for another day.
The simplicity of the mechanism is a wonderful benefit that does stand out.
How Much Assembly is Required?
The assembly process doesn't take a long time.
It can be done quickly since there aren't too many parts involved. It is foldable and that is how it comes. The only thing you have to do is unscrew the handles and place a wire through the holes that are indicated on the machine.
There are clear-cut instructions on how to do this and it won't take more than 10 minutes.
If you get stuck, Fitnation also offers a comprehensive instructional video on YouTube. This is perfect for those who are visual learners and want something to follow during the process.
Pros & Cons: Worth Buying?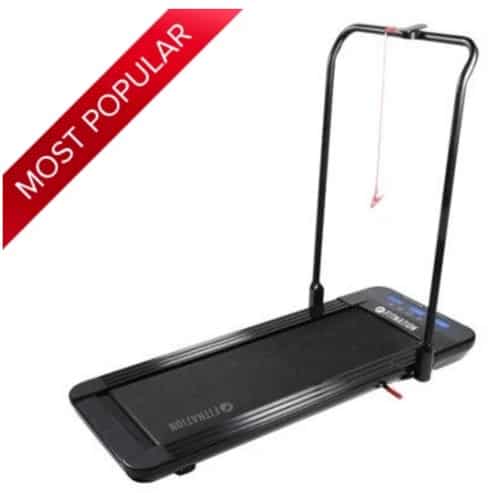 Pros
The foldable design is the first thing you are going to notice with this fantastic treadmill.
Its handles gently go down and it doesn't take more than a few seconds to have it flat on the ground. It is this attention to detail that makes the treadmill a winner.
They understand a compact treadmill is only worthwhile when it is easy to store. This is the only way you are going to feel comfortable with what you are using especially in an apartment or condo.
If so, you won't go wrong with what this machine has to offer.
Remote Control Adjustments
The Fitnation Slim Line Walking Treadmill is world-class because of its remote control adjustments. This means you can take the remote control and make adjustments without having to look at anything.
This is perfect as it is seamless and works well with the rest of the machine's features.
The benefits include:
Snappy Adjustments
Good Range
Easy to Use
A lot of people don't like the idea of having to toggle with the machine while walking and that is where the remote control comes into action.
It's perfectly engineered to work with the machine and is flawless. It is one of the biggest plus points of this compact walking treadmill by Fitnation.
The main selling point is the design and that is a major advantage for those wanting a small-sized solution with a good amount of power.
In this regard, the Fitnation Slim Line Walking Treadmill is a top-tier solution.
It is as compact as anything else on the market and works well. In fact, it is one of the smaller walking treadmills available right now making it a great fit for anyone that is in an apartment.
If you are restricted for space, why not go with something as reliable as this? It is well-sized and easy to use.
Great Treadmill for Beginners
Beginners will want to buy a new walking treadmill that works well with their needs. There is nothing worse than choosing something not designed to deliver great value over the long haul.
In this case, you are going to enjoy it not only now but well into the future too.
The benefits include:
Easy to Get Started
Good Suspension
Easy to Store
Beginners that are afraid of overexerting themselves will want to start here. This is a compact, well-made treadmill that is going to make walking fun again.
You will adore hopping on and going through a workout when given the chance to do so. This is what a great walking treadmill is all about at the end of the day.
The safety features are something the company has clearly thought about and it shows.
The emergency stop feature is perfect for those who may be pushing themselves and don't want to tip over. If you are hooked to the machine, it is going to stop as soon as you want it to.
This is ideal for anyone that is thinking about going through rigorous sessions on the walking treadmill. As soon as you are on the Fitnation Slim Line Walking Treadmill it is going to have these safety features working in the background.
Even the general design is well-made and safe based on international safety standards for cardio equipment.
Cons
Top Speed is only 3.7 MPH
The first con would be the maximum speed that is on offer with the machine.
In this case, you are getting something that is not as versatile as other walking treadmills. While the average person won't mind going up to 3.7 MPH, a professional will.
Some of the world's fastest walkers won't be able to use a machine such as this. It just won't work for them.
This is something to take into account if you are an advanced user.
It is a good solution to have at home, but it is not going to be as good as a treadmill when you want to ramp things up. It just doesn't hit those speeds.
If you're looking for a compact treadmill that kicks the speed up a bit, and is more versatile, then check out the Slim Line's sister tread: Read our Echelon Stride review to learn more
The one thing that may bother you is the noise production.
It's not something that will become overwhelming but it does stand out for a bit. There is going to come a point when you may not notice it, but it's recommended to understand there will be subtle noise regardless of the speed.
As you start to ramp things up to 3.7 MPH, the belt is going to have a constant buzz to it that is noticeable.
This is why it's best to understand it is not a silent machine nor is it marketed as such. Instead, you are going to be picking up a machine that is cost-effective and easy to use. This is what the brand is going for with their compact line.
The goal is to have something perfect for working out and isn't going to put pressure on the joints. If that is what you want, you will enjoy this machine.
Otherwise, the noise is going to be there even if you get used to it after a few sessions.
Where to Buy the Fitnation Treadmill
Want to get your hands on the Fitnation Slim Line Walking Treadmill?
It can be purchased through their official websit with free shipping – connect with the official Fitnation website.
Review Summary: Deciding if this is the Right Walking Tread for You
The Fitnation Slim Line Walking Treadmill is a fascinating machine with all the perks needed to deliver results. It's authentic, well-made, and perfect for the average user.
It's been designed with a purpose and this shines through as soon as you hop on for a run.
Whether it's the build quality or the affordable rate, this is one of the best options on the market for those needing a cost-effective treadmill.