In order to keep our content free, we may earn a commission from the companies mentioned in this post.
In the rapidly growing world of home fitness, the rowing machine has made a significant resurgence, becoming one of the most sought-after fitness tools.
Among the leading brands is Hydrow, a brand that has made a name for itself through its innovative and immersive approach to home fitness.
Hydrow offers two key products, the Hydrow Rower and the more recently released Hydrow Wave.
This comprehensive review delves into both products, their key features, pros, cons, and their worth in terms of cost. We'll also compare the two and give insights into who might find each model the best fit.
Hydrow Key Features
22" HD touchscreen display
4000+ Workouts
Internet-connected with subscription service
Sleek, Modern Design
Two Models to Choose
30-Day Risk Free Trial
Realistic Rowing Experience
Virtually Silent
22-inch HD Sweat-Proof Touchscreen: Provides an immersive, interactive workout experience.
Live Outdoor Reality: Experience the feeling of rowing on real water with live and on-demand workouts.
Quiet and Smooth: Utilizes electromagnetic resistance for a smooth, whisper-quiet rowing experience.
High-quality Construction: Constructed with industrial-grade materials for long-lasting durability.
Whole Body Workout: Provides an effective, low-impact, full-body workout.
Interactive Membership: Access to live and on-demand classes, along with the option to row in real-time with friends.
Adjustable Resistance: Allows users to adjust the workout intensity to match their fitness level.
Sleek, Modern Design: Designed to blend seamlessly with modern home decor.
The Hydrow Rower is a premium indoor rowing machine that is designed to offer an interactive and immersive rowing experience. The standout feature of the Hydrow is its 22-inch HD sweat-proof touchscreen. This large screen enables users to fully engage with a wide range of live and on-demand workouts that are led by world-class athletes. It's more than just a rowing machine – it's a comprehensive workout system that can be tailored to suit your fitness level.
One of the primary features that set the Hydrow apart is the Live Outdoor Reality. This feature simulates the experience of rowing on real water, providing users with an immersive workout that is as close as possible to the real thing. The workouts are set against scenic backgrounds, from tranquil rivers to challenging oceans, all of which are designed to motivate and engage users.
In terms of construction, the Hydrow boasts an industrial-grade build, ensuring its durability and longevity. It's sturdy, robust, and capable of supporting users of up to 375 lbs. Additionally, its sleek, modern design is aesthetically pleasing, making it a great addition to any home or home gym. With its adjustable resistance, it offers a customizable workout experience to cater to everyone from beginners to experienced rowers.
Overall, the Hydrow Rower offers a perfect blend of technology and fitness. It's a high-quality machine that provides an engaging, fun, and effective workout experience.
Why I Love My Hydrow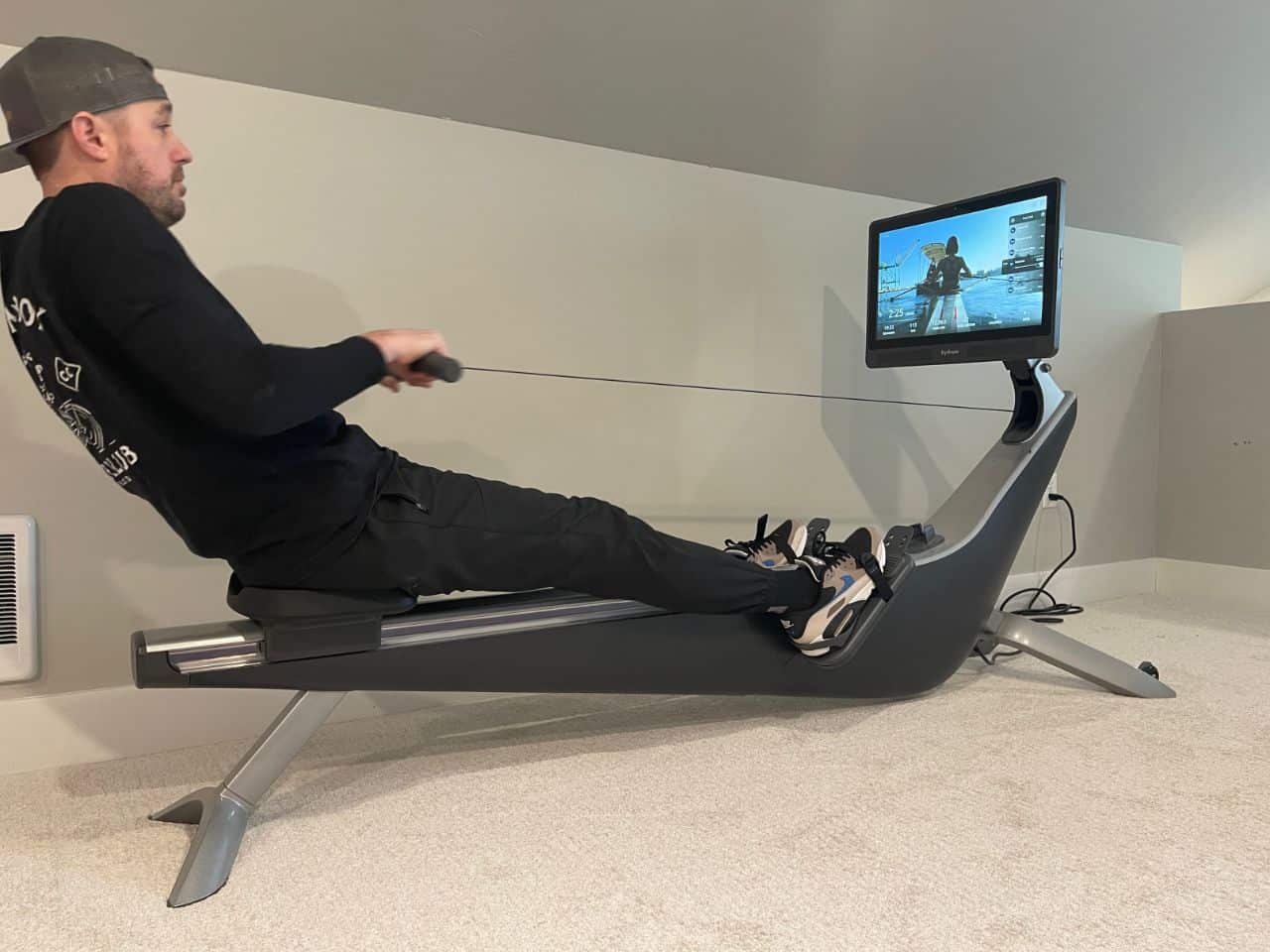 I fell in love with my Hydrow Rower for a multitude of reasons, chief among them being the immersive and interactive experience it offers. There's something truly transformative about a Hydrow workout; it takes you out of your living room and immerses you into the tranquility of rowing on a serene river or the challenging waters of a tumultuous ocean, all thanks to the 22-inch HD touchscreen.
The Live Outdoor Reality feature has been a game-changer for my workouts. The fact that these sessions are led by world-class athletes, who guide and motivate you through each workout, adds a layer of intensity and engagement that's unmatched. You can row in synchrony with these athletes, follow their technique, and soak up the idyllic or challenging waterways that serve as your backdrop.
YOU MAY ALSO LIKE: Best Rowing Machines for Home
The rowing workouts are not only immersive but also incredibly diverse. From sprints to long-distance rows, from yoga sessions to strength training, the diversity of workouts ensures that my fitness routine never becomes stale. I enjoy the freedom of choosing a class based on my mood, energy level, or fitness goals for the day.
What's more, the community aspect of Hydrow is fantastic. There's a real sense of camaraderie and friendly competition within the Hydrow community. The leaderboards, team rows, and challenges add a fun, competitive edge to workouts and help keep me motivated.
Finally, it's the quiet, smooth rowing action of the Hydrow that I find most pleasing. It's a low-impact, full-body workout that is easy on the joints, making it an excellent choice for those seeking a balance of intensity and safety. The machine itself is sleek, modern, and blends seamlessly into my home, making it as much a part of my living space as it is my fitness routine.
In essence, owning a Hydrow Rower has revolutionized my at-home fitness experience. It's more than a piece of workout equipment; it's an investment in my health, wellness, and overall quality of life. The unique blend of technology, immersive fitness, and community interaction makes the Hydrow an unparalleled fitness companion.
Hydrow Pros and Cons
Pros
Immersive Experience: The 22-inch HD touchscreen, coupled with live and on-demand workouts, provides a completely immersive workout experience.
Quiet and Smooth: The electromagnetic resistance of the Hydrow Rower offers a whisper-quiet and smooth rowing motion.
Quality Construction: Made with industrial-grade materials, the Hydrow is built to last and can withstand rigorous daily use.
Diverse Workouts: With a range of workouts available, from rowing to yoga, the Hydrow caters to a variety of fitness goals.
Community Engagement: The Hydrow community offers a social aspect that can keep users motivated and accountable.
Cons
Size: The Hydrow Rower is quite large, which may be a problem for those with limited space.
Price: The Hydrow Rower is on the pricier side compared to other home workout equipment.
Reliance on Subscription: To get the most out of the Hydrow experience, a monthly subscription is necessary.
Lack of Entertainment Features: Unlike some other smart fitness machines, the Hydrow doesn't allow users to watch Netflix or other entertainment options during workouts.
Not Portable: The Hydrow Rower is not easy to move or store due to its size and weight.
How Much Does the Hydrow Cost – Is it Worth it?
Hydrow Price
The Hydrow Rower comes in at a premium price, comparable to other high-end home fitness equipment like Peloton. It's a significant investment, but the machine's quality, immersive content, and the community aspect may justify the price for many.
Here are the Hydrow's pricing options at the time of publication:
Hydrow Rower: $2,495
Hydrow Rower + 1-Year Subscription Bundle: $3023
Hydrow Rower + 2-Year Subscription Bundle: $3,551
Hydrow Rower + 3-Year Subscription Bundle: $4,079
Hydrow Wave Price
The Hydrow Wave, while still a quality piece of equipment, comes in at a significantly lower price. It offers the same access to the workout content but requires your own device to stream it. If you're more budget-conscious or space-limited, the Wave could be a great option.
Here are the Wave pricing options at the time of publication:
Hydrow Wave: $1,895
Hydrow Wave + 1-Year Subscription Bundle: $2,423
Hydrow Wave + 2-Year Subscription Bundle: $2,951
Hydrow Wave + 3-Year Subscription Bundle: $3,479
Of course, there are additional add-ons and accessories available for purchase as well – learn more and check current pricing at Hydrow's website:
Is the Hydrow or Hydrow Wave Better for You?
The Hydrow Rower and Hydrow Wave are designed to cater to different user needs, and your choice between the two will largely depend on your individual circumstances, preferences, and goals.
The Hydrow Rower is the flagship model and offers a fully immersive experience with its 22-inch HD touchscreen. The workouts are visually engaging and interactive, which can be a massive motivational boost. This model provides a gym-quality rowing experience and the feeling of being on the water, making it an excellent choice for those looking for a high-end home fitness solution. If you have the space and budget, and you value a comprehensive, immersive, and connected fitness experience, the Hydrow Rower is an excellent choice.
The Hydrow Wave, on the other hand, is designed with portability and flexibility in mind. It doesn't have a built-in screen, which makes the unit more compact and lighter. You use your device to access the Hydrow app, giving you the same excellent content but in a way that's more adaptable to different spaces and lifestyles. If you have a smaller living space, travel frequently, or have a tighter budget, the Hydrow Wave could be a more suitable choice. You'll still get a fantastic rowing workout and access to Hydrow's extensive library of workouts, but in a more affordable and flexible format.
In summary, both machines deliver a stellar, low-impact, full-body workout, and the best choice depends on your personal circumstances. If you want the most immersive and connected workout experience and have the space and budget, go for the Hydrow Rower. If you need more flexibility, portability, or affordability, the Hydrow Wave is a fantastic option.
Who Should Consider the Hydrow?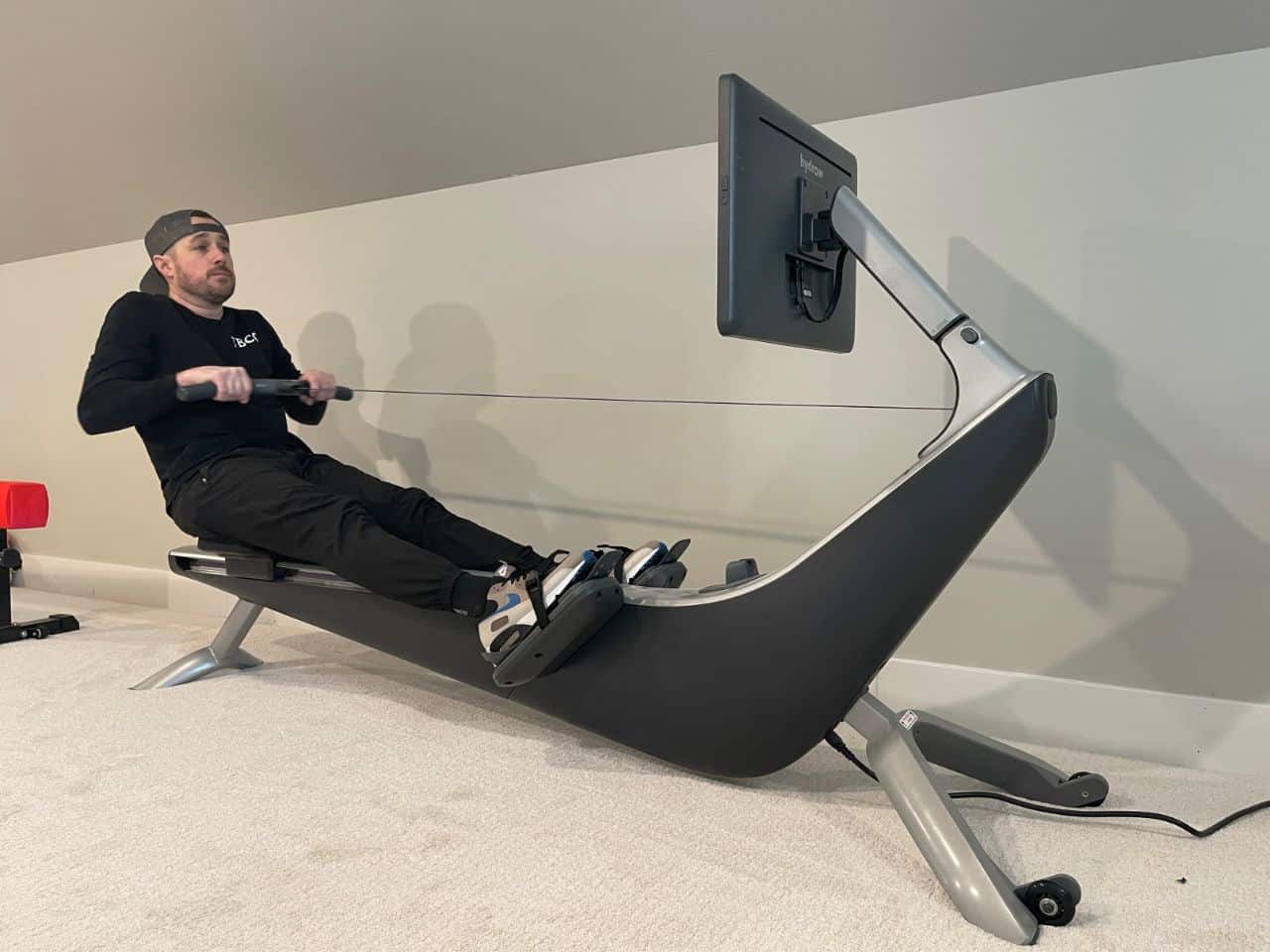 Fitness Enthusiasts: Individuals who are serious about their fitness goals and are seeking a comprehensive, full-body workout solution.
Technology Lovers: Those who enjoy merging fitness with technology for an immersive, interactive workout experience.
Rowing Enthusiasts: Anyone who loves the feeling of rowing on water and wants to replicate that experience at home.
Space Savers: Although the Hydrow Rower is large, its upright storage design can be a space saver compared to treadmills or ellipticals.
Community Seekers: Those who thrive on community motivation and enjoy participating in live workouts and team challenges.
The Hydrow Rower is an excellent investment for fitness enthusiasts who are looking for a low-impact, full-body workout solution. It's more than a rowing machine—it's a comprehensive fitness platform that caters to a range of fitness goals. If you are the kind of person who loves breaking a sweat and getting a well-rounded workout, then Hydrow is for you.
Moreover, if you're someone who loves to incorporate technology into your fitness routine, the Hydrow Rower would be a perfect fit. The 22-inch HD touchscreen display and the accompanying app provide a highly interactive and engaging workout experience. You get to participate in live outdoor reality workouts and on-demand sessions that transport you to various locations around the world, adding a new dimension to your regular fitness regime.
Finally, the Hydrow Rower is also ideal for anyone who thrives on community engagement. The sense of camaraderie, the competitive spirit, the shared goals—all of these add an extra layer of motivation that can help keep you consistent with your workouts. The Hydrow community can make your fitness journey feel less solitary and more like a team effort. So, if you're the kind of person who gets motivated by community spirit and loves being part of a fitness tribe, Hydrow is definitely worth considering.
Who Should Consider a Different Rower?
Budget-Conscious Buyers: Those who are on a tight budget may find the Hydrow's price point a bit steep.
Individuals Without a Stable Internet Connection: Since Hydrow's immersive workouts are streamable, you need a reliable internet connection to get the most out of it.
Users Not Interested in Subscription-Based Services: If you prefer a one-time purchase and don't want to pay for a monthly subscription, the Hydrow might not be for you.
Those Seeking Simplicity: Individuals who prefer a more traditional, non-digital rower without interactive features.
Space-Constrained Users: Those with limited living space might find the Hydrow Rower too large.
While the Hydrow Rower is an excellent piece of fitness equipment, it isn't suitable for everyone. If you're on a tight budget, you might find the cost of the Hydrow, along with its subscription service, too high. It's a premium product with a premium price tag, so it might not align with everyone's financial circumstances.
RELATED: Aviron Rower Review
Moreover, if you prefer a more straightforward, non-digital rower, you might not enjoy the Hydrow. It's a high-tech machine that merges fitness with technology, which might not be to everyone's liking. If you prefer to row without interactive features or digital distractions, a more traditional rowing machine might be a better fit.
The Hydrow is also dependent on a stable internet connection to stream workouts. If your internet connection is unreliable, or you live in an area with weak internet coverage, you might not be able to make the most of the Hydrow's key features. Similarly, if you prefer not to tie your fitness equipment to a monthly subscription, you might want to explore other options.
Finally, while the Hydrow does have an upright storage option, it's still a sizable piece of equipment. If you're limited on space, you might find the Hydrow too large for your living area. There are more compact rowing machines available on the market that might better suit your needs.
Hydrow Rower and Hydrow Wave Specs
Hydrow Rower Specs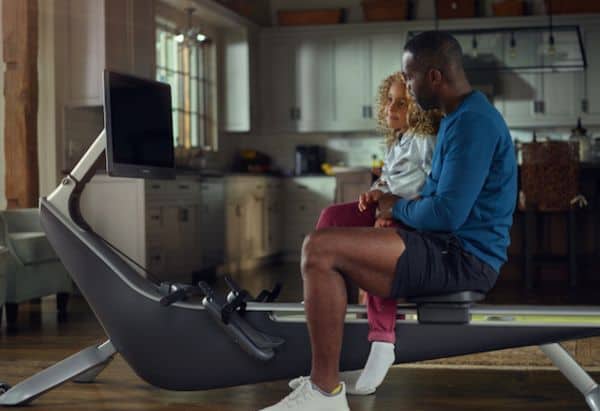 Footprint: 86″ L x 25″ W
Upright Storage Dimensions: 33″ L x 25″ W x 86″ H
Weight: 145 lbs.
Max User Weight: 375 lbs.
Screen: 22″ HD sweat-proof touchscreen
Resistance: Electromagnetic and computer-controlled
Connectivity: Wi-Fi and Bluetooth
Construction: Aluminum and steel frame, flat polyethylene monorail
Other Features: Adjustable footbeds, ergonomic handle, built-in speakers, heart rate monitor compatibility
Hydrow Wave Specs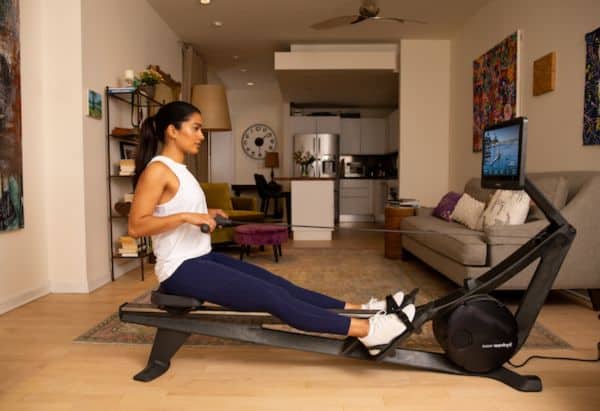 Footprint: 83.5″ L x 22″ W
Upright Storage Dimensions: Not specified
Weight: Not specified
Max User Weight: Not specified
Screen: Uses your own device (no built-in screen)
Resistance: Air and magnetic resistance
Connectivity: Bluetooth for connecting to the Hydrow app
Construction: Aluminum rail, steel and plastic construction
Other Features: Adjustable footbeds, ergonomic handle, device holder for tablets and smartphones
The Hydrow Rower is a robust and premium piece of fitness equipment. Its footprint is a bit larger than some other home rowers, but it can be stored upright to save space. It's built from durable aluminum and steel, with a flat polyethylene monorail that provides a smooth, frictionless rowing experience. The resistance is electromagnetic and computer-controlled, allowing for precise adjustments to match your fitness level. The standout feature is the 22″ HD sweat-proof touchscreen, which displays your workout data and streams your workouts.
On the other hand, the Hydrow Wave is designed with portability and flexibility in mind. While the exact weight and dimensions are not specified, it is lighter and more compact than the Hydrow Rower, making it easier to move and store. It doesn't have a built-in screen, instead, you use your own device (tablet or smartphone) to access the Hydrow app. The construction is a blend of steel, aluminum, and plastic, ensuring durability while also reducing weight. The resistance is both air and magnetic, providing a realistic rowing feel.
Both models come with adjustable footbeds, an ergonomic handle, and are compatible with heart rate monitors, ensuring your comfort and providing a comprehensive view of your workout. They are designed to be durable and able to stand up to rigorous daily use, making them excellent choices for serious fitness enthusiasts.
User Reviews: What Real Hydrow Customers are Saying
Many users have praised the Hydrow Rower for its immersive workouts, solid build, and smooth operation. Customers appreciate the variety of workouts and the community aspect. Some users have mentioned the machine's high price and large size as negatives.
Users of the Hydrow Wave appreciate its portability, affordability, and access to the same excellent workout content. Some users miss the immersive feeling provided by the larger, built-in screen of the Hydrow Rower.
Here's what several verified Hydrow customers on TrustPilot had to say…
"Best. Purchase. Ever. This is the quietest, sturdiest rowing machine I've used. The touchscreen display is high quality and delivers stunning videos. The athlete trainers are fantastic! Hydrow has done a stellar job of providing a seamless customer experience from the informative website, app, delivery process, packaging, and setup. Well done! Best of all the Hydrow rows like a dream. My biggest challenge will be tearing myself away from the Hydrow."
"Blown away! Like driving a Porsche, with inspired trainers right by your side. Love my new Hydrow."
"I am loving my Hydro Wave Rower! I am glad I bought the smaller one. It is big enough and works wonderfully. I was torn between spending the money on it or a water rower. I made the right decision. I have been on 10 rows so far and love the videos."
"Absolutely loving this thing! We won't ever leave the house again. We get exercise, fabulous views and interactive encouragement. The technical tips on how to row and how to fine tune your stroke are brilliant. I'm starting to look forward to rowing at home. Bravo Hydrow!"
Is the Hydrow Easy to Assemble?
The short answer is, yes, the Hydrow Rower is relatively easy to assemble. Once you receive the package, it should take about 15-30 minutes to fully assemble the rower.
In the box, you will find everything you need for assembly, including the necessary tools and a detailed instruction manual. The process involves attaching the front and rear stabilizers to the main unit and securing the monitor. The steps are well-documented, and the pieces fit together seamlessly.
It's worth noting that the machine is heavy, so it may be helpful to have a second person assist with the assembly, especially when it comes to moving and positioning the machine. Hydrow does offer a white-glove delivery service at an additional cost, where professionals will deliver and set up the machine for you, taking any hassle out of the process.
One of the benefits of the Hydrow's design is that, once assembled, the machine requires minimal ongoing maintenance. The rail is self-cleaning, and the resistance mechanism is enclosed to prevent dust or debris from affecting performance.
The Hydrow Wave, on the other hand, comes pre-assembled. All you need to do is unfold it, adjust the footbeds and resistance to your preference, mount your device, and you're ready to row.
In conclusion, the Hydrow Rower is designed with user-friendly assembly in mind. However, if you're not comfortable assembling it yourself or if you'd rather not deal with the task, the white-glove delivery service is a valuable option to consider.
Verdict: Should You Buy a Hydrow?
Hydrow provides top-tier rowing machines that offer a unique, immersive, and effective workout experience. Whether you choose the Hydrow Rower or Hydrow Wave will depend on your budget, space, and personal preferences. Both models are durable, well-built, and provide access to high-quality workouts.
Hydrow FAQs
Hydrow Warranty
Hydrow offers a 5-year warranty on the frame of both the Hydrow Rower and Hydrow Wave. The components and labor come with a 1-year warranty.
Is Hydrow Better Than Peloton?
It depends on what you're looking for. For cycling enthusiasts, Peloton would be a better choice. However, if you're looking for a full-body workout, the Hydrow machines are superior.
Is Hydrow a good workout?
Absolutely. Rowing is an excellent full-body workout that is also low-impact. The range of workouts available on the Hydrow machines ensures you get a well-rounded fitness routine.
Can you watch Netflix on Hydrow?
No, you cannot watch Netflix on the Hydrow Rower's screen. The focus of the Hydrow Rower is to provide an immersive fitness experience.
Is Hydrow worth it without the membership?
While you can use the Hydrow Rower and Hydrow Wave without a membership, much of the immersive experience comes from the live and on-demand workouts which require a membership. You can still row without a membership, but the experience will be significantly different.