In order to keep our content free, we may earn a commission from the companies mentioned in this post.
Peloton is a relative newcomer to the scene and they have taken the fitness industry by storm. You may have seen one of the commercials for the increasingly popular bike or heard the news about how they are changing the fitness industry for good.
However, fitness and Peloton enthusiasts everywhere can celebrate knowing that Peloton's next step in the fitness industry is taking on heavyweights like NordicTrack in the treadmill space. Peloton unveiled its second fitness product: the Peloton Tread in 2018 at the Consumer Electrics Show (CES) [1].
Since then, the Tread has been flying off-the-shelves as more consumers than ever before look to invest in home workout equipment and solutions.
This has pushed treadmill heavyweight NordicTrack to innovate on already some of the best-rated products in the industry. With that, NordicTrack's parent company invested a lot of money into a proprietary streaming technology iFit, which can now be found in a variety of different NordicTrack treadmills. With a current subscriber-base of 330,000 as of December 2019, it is quickly gaining steam in the connected workout space [2].
While both NordicTrack and Peloton can offer amazing workout experiences, the challenge can be deciding which one is the better fit for your fitness needs, and budget. Below well compare some of the key factors between the two machines, so you can decide what's the best option for you.
Features and Options Comparison
Peloton Tread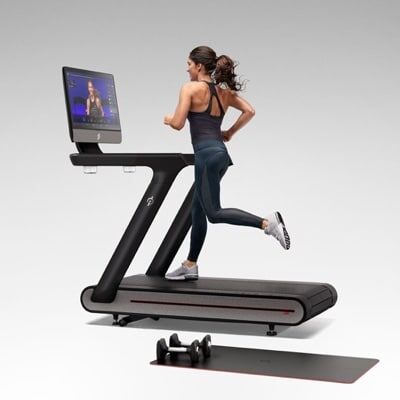 While there is only a single model available of the Peloton Tread, there are (4) different packages to choose from.
Basics Package: This package comes with only the connected workout treadmill.
Essentials Package: This package comes with the connected workout treadmill, resistance bands made with premium materials, boot-camp weights made of cast iron (2 pairs), and a reversible workout mat. It also comes with a convenient heart rate monitor to track your heart rate during intense workout sessions.
Works Package: This package comes with the connected workout treadmill, resistance bands, boot camp weights (2 pairs), reversible workout mat, JBL, and Peloton collaboration earbuds, A Peloton branded glass water bottle and a heart rate monitor.
Family Package: This package comes with the connected workout treadmill, resistance bands, boot camp weights (3 pairs), reversible workout mat, JBL and Peloton collaboration earbuds (2 pairs), A Peloton branded glass water bottle (2 bottles), and heart rate monitors (2 pairs).
NordicTrack Treadmills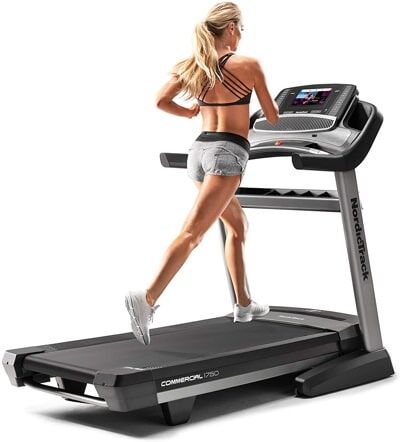 NordicTrack on the other hand has a much more diverse range of options when it comes to treadmill offerings. You will be able to find treadmills existing in the affordable range to the same range the Peloton sells their Tread at.
Therefore, it is a better choice if you want something much more affordable. However, if you want something that closely resembles the experience you will get with the Peloton Tread, you will want to opt for one of their treadmills with their proprietary iFit connected fitness platform.
The NordicTrack Commercial 1750 stands out as one of the best competing alternatives to the Peloton Tread if you are willing to spend the high price tag as it comes with iFit connectivity and it offers a lot of the features and options that you get with the Peloton.
NordicTrack simply has so many different models and options to choose from. As a consumer, you should value being able to choose from different options because it allows you to tailor your purchase directly to what you want out of a treadmill. After all, if you aren't going to be using certain features, you won't want to pay extra to have them. Likewise, it gives you the ability to save money and purchase less costly treadmills which Peloton doesn't give you.
While you can choose from different packages, they only have one single treadmill to choose from and it starts at a very high price, to begin with.
Winner: NordicTrack
Workout Comparison: Live vs On-Demand
Peloton Tread Workout Options
The Peloton offers a comprehensive workout experience directly through its connected app. The connected app can do everything from monitor your workout history to assisting you in choosing different workout programs that you can utilize. Best of all, it includes more than simply running workouts and exercises. Instead, you can sort through different live and on-demand workouts that include free weights and even resistance band exercises. Being able to communicate directly with the instructor of the class makes the Peloton incredibly rewarding and immersive.
Standout Feature: Peloton offers live daily classes that will allow you to immerse yourself in live studio classes with other runners and a real-life instructor.
NordicTrack with iFit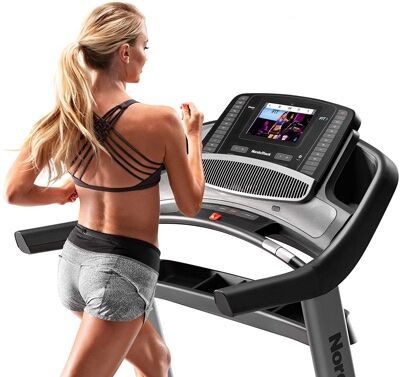 NordicTrack leverages its iFit connected platform in order to stream its workouts. Along with running programs, they offer different comprehensive workout options that you can choose from. The biggest downside to NordicTrack's iFit is the lack of live workout classes which can be a major disadvantage if that is what you are looking for in a connected treadmill. However, the experience is extremely interactive and it encourages a lot of engagement making it very effective. NordicTrack's iFit even links up with Google Maps which helps you choose from varying terrain which will increase or decrease the resistance and incline based on where you are virtually running.
Winner: Peloton (Edge due to having live classes)
Price Comparison: Is NordicTrack or Peloton Cheaper?
Peloton Tread Pricing
Peloton has done a great job of placing its connected home exercise equipment into a premium tier. Peloton does use the highest quality materials with their workout equipment, you are going to be paying more for the brand name. There is no doubt about it, the Peloton Tread is a fantastic yet expensive piece of equipment. You will find the least expensive package starting at $4,295.
NordicTrack Pricing
NordicTrack offers a wide range of treadmills including those with connected features and without. One of the feature-packed iFit connected Peloton competing options, the Commercial 1750, starts at just $1799. As you can see, NordicTrack has a massive price advantage for consumers who are looking for the most "bang for their buck." NordicTrack uses just as good of materials in their treadmill construction for their higher-end treadmills and they come in at a lesser price.
Winner: NordicTrack
Check current NordicTrack prices at Amazon.
Summary: What's the More Affordable Treadmill?
This is a tough one. For those who are interested in a connected treadmill purely for the 'live workout experience,' the answer is fairly clear. The Peloton started the live workout movement and they continue to dominate it. This is one of the reasons Peloton as a brand is so successful in the industry. They have the best live and on-demand connected workout experience in the industry, bar none.
For those who are looking for a much more affordable alternative that isn't going to completely 'break the bank,' the NordicTrack Commercial 1750 offers a compelling alternative at a much-reduced price point due to the interactive experience it provides. As long as you are willing to forgo live daily classes, you should be completely content with all that it has to offer.
Likewise, there are plenty of other treadmills you could purchase if you are aiming to get a NordicTrack. They have treadmills for virtually every budget. Therefore, you should be able to find something that fits within the respective price range you are looking to find a treadmill in. However, the high end of NordicTrack now that their offerings come with iFit included offering compelling alternatives to Peloton.
Each offers a good connected workout experience with slight differences in implementation. Therefore, you should be able to pick from the two options to identify which one would work best for yourself.
You should get the Peloton Tread if…
You want to participate in live daily classes
You want the most immersive workout experience
You should get the NordicTrack model or NordicTrack Commercial 1750 if…
You want an affordable alternative to the Peloton Treadmill
You don't care about live daily classes
You want the most interactive workout experience with different types of workouts
References:
https://www.prnewswire.com/news-releases/peloton-introduces-the-peloton-tread-a-private-fitness-studio-in-your-home-300579671.html