In order to keep our content free, we may earn a commission from the companies mentioned in this post.
Both NordicTrack and ProForm are manufactured by ICON Health and Fitness, the world's largest manufacturer of exercise equipment [1]. Despite being manufactured by the same company, they are two brands competing in the same space. Each brand has a range of products sure to satisfy anyone looking for the very best home workout equipment.
They each offer innovative exercise equipment including treadmills, exercise bikes, and elliptical. As a consumer, choosing between the two can be one of the more difficult decisions you will make if you are interested in a class-leading home workout machine.
Throughout this article, we will be going over a thorough comparison of the two brands and their competing products to give you enough information to choose the right one for yourself.
Equipment Comparison: What Machines Do NordicTrack and ProForm Offer?
ProForm Machines
Treadmills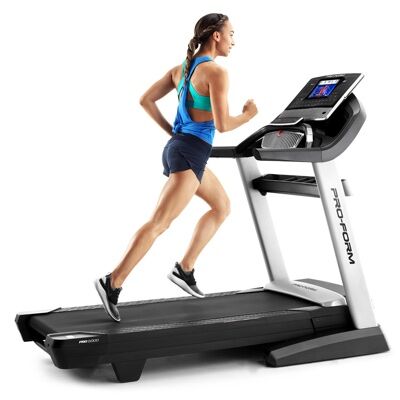 1. Carbon Series
ProForms Carbon series is one of their best available treadmills. Not only does it feature industry-leading build quality with high-performance construction, but it offers smart integration with a 1-year iFit family membership included with the purchase. This treadmill comes with a built-in 10" Smart High Definition Display and an EKG Grip Pulse Heart Rate Sensor for the ability to get interactive personal training in the comfort of your own home.
The carbon series is built for performance. It features a (20x55inch) deck that features ProShox cushioning. This cushioning is designed to make the platform flex a little bit to avoid the normal wear and tear a runner is usually subject to on treadmills. It's also perfect for at-home use due to its SpaceSaver design which allows you to conveniently and easily fold up the treadmill with EasyLift assist.
2. Pro Series
The Pro series comes with three different models to choose from. The most affordable being the Smart Pro 2000. This is not only the most affordable, but it also happens to be one of the most popular. The budget Smart Pro 2000 model comes equipped with a 7" color touchscreen with iFit trainer-led workouts fully integrated. The Smart Pro 5000 model is the mid-range option and it features a 10" color touchscreen with iFit integration. The Smart Pro 9000 model also has a 10" color touchscreen with iFit integration.
Each pro series treadmill offers the ability to have immersive running experiences. That is due to the Smart integration which allows your trainer to automatically adjust your speed and incline anywhere from -3% to 15% based on the terrain that you are simulating. A 'cool' addition to the Smart series has to be the integrated CoolAire fan that can keep you fully comfortable while running. This can keep you running for longer periods of time as you won't experience constant discomfort from sweating too much or being too hot.
3. Performance Series
The Performance series is another category where ProForm offers a total of three models to choose from. The Performance series starts at $999 with the Smart Performance 400i model. The mid-range model in this series is the Smart performance 600i at $1,299. The most expensive in this series is the Smart Performance 800i model at $1,599.
The budget 400i comes with a 7" color touchscreen. The mid-range 600i comes with a 10" color touchscreen. Whereas, the expensive 800i comes with a whopping 14" color touchscreen. Each of these treadmills offers an incline ranging from 0 to 10% and they all come with iFit fully integrated. Therefore, you can get expert-level guidance right in your living room with interactive training. The platform to run on is (50" long and 18" wide) which should provide you with plenty of space to run comfortably.
Ellipticals
1. Carbon Series
The Carbon Series offered by ProForm is one of the most popular models of its elliptical offerings. Like ProForm's other Carbon series products, it offers some of the highest build quality you will find in the entire line.
With the Carbon series elliptical, it features an integrated 7" smart HD touchscreen and an EKG Grip Pulse Heart Rate Sensor. Also, it has terrain-matching technology which allows you to climb mountains you always wanted to, right from the comfort of your living room. It features iFit integration where your trainer can control your incline and resistance automatically. The elliptical also happens to feature fully adjustable pedals to give you more grip and more cushioning throughout the workout session.
2. Endurance Series
The Endurance series offers three different models. It features the Endurance 520 E starting at $999, the Endurance 720 E starting at $1,299, and the Smart Endurance 920 E. The first two offer a 19" stride. Whereas, the Smart Endurance features an adjustable 19" stride. Each treadmill features iFit integration. The budget and the mid-range models have a 5" display and the Smart version has a 7" display. The Smart 920 E stands out because it offers adjustable cushion pedals for better control during your workouts.
3. Pro Series
The Pro Series has three different models. It has Pro 9.9, the Smart Pro 12.9, and the Smart Pro 16.9. The Pro 9.9 offers a 21" adjustable stride. The 12.9 offers a 20" adjustable stride. Whereas, the Smart Pro 16.9 offers a 20" power stride. They each offer iFit integration but the Smart 16.9 model brings it up a notch by offering a Smart HD 10" touchscreen for better immersion.
CSE Series
The CSE Series features a single model called the Smart Strider 895 CSE. This model has an 18" stride and iFit integration. It is available for $1,999 but packs some of the best features including terrain matching technology, a 7-inch high definition display, and simple storage.
4. Hybrid Series
The Hybrid series offers two models, the Trainer and the Trainer Pro. With the hybrid series, you are getting trainer-led workouts with iFit integration and two machines in one. It essentially combines an exercise bike with an elliptical to create a very effective total body workout machine. The Pro comes with a large LCD display.
Exercise Bikes
1. Studio Series
Their studio series comes in two models. The Studio Bike Limited – White edition, and the Studio Bike Pro. Each comes with a 10" high definition touchscreen and inertia-enhanced flywheels. They also offer iFit integration
2. E Series
The E Series comes in two models including the 440 ES and the 8.0 EX. 440 ES comes with an 18-pound flywheel and 25 resistance levels. The 8.0 EX (same price) comes with a 16-pound flywheel and 25 levels of resistance. Each has iFit integration.
3. Hybrid Series
The Hybrid series comes in two models. The Hybrid Trainer and the Hybrid Trainer Pro which combine a bike and an elliptical. The Trainer Pro offers a 15-pound flywheel and a longer stride. Each has iFit integration.
HIIT Trainers
The HIIT Trainers from ProForm come in two models. One is the Carbon HIIT H7 and the other is the Pro HIIT H14. Each has a 10" vertical elliptical stride and a 30-pound flywheel. The Carbon version features SMR (Silent Magnetic Resistance) for silent operation and a 7" HD touchscreen. The Pro HIIT H14 comes with a whopping 14" HD touchscreen.
ProForm Rowers
1. Carbon
The Carbon series models provide 3 years of iFit family membership, automatic and adjustable resistance, SMR technology for silent operation, and a 5" backlit display and included 10" tablet with 26 digital resistance levels.
2. R Model
The R Model series comes in two models. You can either get the 750R or the 440R. The 750R comes with inertia-enhanced flywheel performance and 24 resistance levels with a 5" high-contrast display. The 440R rower comes with inertia-enhanced flywheel with 8 levels of resistance and a backlit LCD display.
NordicTrack Machines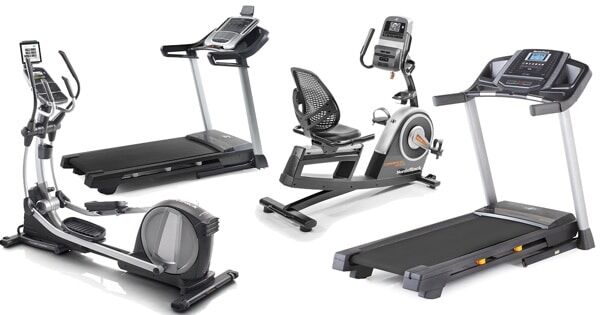 Treadmills
1. Commercial
NordicTrack offers three commercial models. You can get the Commercial 1750 which is the cheapest at $1,799. The mid-tier Commercial 2450 or the high-tier Commercial 2950. The high-end 2950 comes with an incredibly immersive 22" high definition touchscreen display which is the main differentiating factor. The 1750 model comes with a 10" HD display by comparison.
2. T Series
The T Series comes in three different models, as well. You can choose from the affordable T 6.5 Si or opt for the mid-tier T 8.5 S, or the much more expensive T 9.5 S. The biggest difference being the display. The high end comes with a 14" display and a 12% incline. The lowest comes with a 10" display with a 10% incline.
Ellipticals
1. FreeStride
The FreeStride series features integrated iFit training and both a 10% incline and decline range. The series ranges from offering a 7" HD display to a 14" HD display. You can choose from the FS7i, FS9i, FS10i, or the FS14i.
2. Front Drive
The Front Drive series offers iFit integration, and up to a 10" HD touchscreen. You can choose from the Commercial 9.9, Commercial 12.9, Commercial 14.9 or the Elite 14.9. The Elite offers a lot of bells and whistles like digitally amplified speakers that make your experience more immersive.
3. Rear Drive
The Rear Drive series comes with a lot of comfort-enhancing features that you won't find in the other models. Also, they feature much more prominent space-saving designs along with a 7" touchscreen to allow you to be able to immerse yourself in your workouts.
NordicTrack Exercise Bikes
1. Commercial Studio
These come in two models. The S15i and the S22i. They offer on-demand classes and interactive training with iFit and they provide a very immersive studio-like experience with a 14" and a 22" touchscreen.
2. Grand Tour
The Grand Tour bikes offer a lot of the features you would want for a fat-busting experience. You can get a screen up to 10" which will allow you to immerse yourself into your workouts. This one comes in either the Grand Tour (7" screen) or the Grand Tour Pro (10" screen).
3. Recumbent
The recumbent bikes offer good exercise with minimal stress on the joints. These bikes offer a lot of the comfort features you would want and up to a 7" touchscreen for iFit integration. This bike comes in the VR25 and the VR21.
4. Upright
The Upright series comes with a space-saving design that you won't find elsewhere in the series. You will be able to get all of the features you would want in a bike in a spacing saving design with a 7" HD touchscreen included in the higher end VU19.
Rowers
The Rowers come in three different models starting as low as $799. You can get the RW 200, RW 500, or the RW900. The cheapest doesn't have a touchscreen display. The mid-tier offers a 10" display and the RW900 has a 22" display for incredible immersion with your iFit experience.
Connected Workout Comparison: iFit Available on Both ProForm and NordicTrack?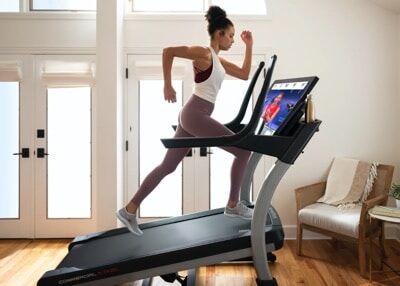 There isn't much of a difference here. Each is offered by the same manufacturer. Therefore, they both feature ICON Health's iFit experience. A lot of your iFit workout experience will be predicated on the model you end up purchasing.
Price Comparison: Is ProForm or NordicTrack Cheaper?
You will be able to find affordable and budget models with each brand. Therefore, it really depends on which model you end up going with. However, in general, ProForm is usually considered the more affordable and lower quality-tier brand. However, you will find premium options with each.
Summary: Which Is Better?
The truth is, ICON Health and Fitness have these two brands competing with one another without major differences between them. They each feature a lot of the trademarked features that the other one has. For instance, they both offer SpaceSave Design, EasyLift Assist, and even AutoBreeze workout fans. Thus, you want to do a direct one-to-one comparison of the models you are considering to find the right one.
Standout NordicTrack Features:
You will find a lot of the workout machines within the NordicTrack branding have larger and more immersive displays
Standout ProForm Features:
Not only do Carbon series ProForm exercise machines come with 3 years of iFit family membership included, but they feature a carbon finish and a lot of premium-grade materials and design choices including ProShox cushioning for better comfort.
References:
https://www.iconfitness.com/
https://www.nordictrack.com
https://www.proform.com