In order to keep our content free, we may earn a commission from the companies mentioned in this post.
The Peloton Tread has become a popular treadmill among beginners and professionals. It continues to see a rise in sales with a diverse range of features including live on-demand workouts, a 32-inch touchscreen display, and a slatted running belt.
Unfortunately, this amazing treadmill also comes with a major flaw and that is its price tag. It is quite pricey and is going to take a huge chunk out of your budget right away. For those who don't want to spend this much on a treadmill, it might be time to start looking at alternatives.
After considerable research on the topic, here are the five most affordable Peloton Tread alternatives to keep in mind.
6 Best Peloton Tread Competitors
Echelon Stride
NordicTrack Commercial Series Treadmills with iFit
Bowflex BXT216 with JRNY App
ProForm PRO 9000
Nautilus T618
Schwinn 870: Cheapest Alternative
1. Echelon Stride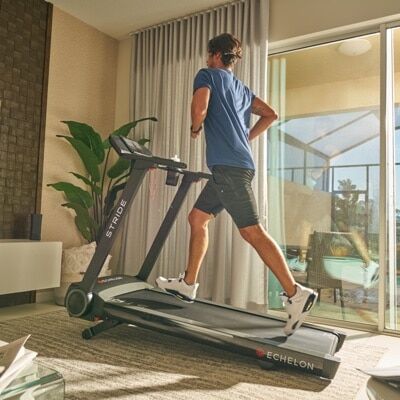 The Echelon Stride (read review) is an awesome budget-friendly treadmill that offers access to live and on demand workouts from home.
If you like the idea of Peloton's instructor-led workouts, then the Stride may just be the alternative you've been looking for.
While it doesn't feature the beautiful built-in HD screen that the Peloton Tread does, you can get a great instructor-led workout from your favorite tablet, that conveniently mounts to the front of your Echelon Stride.
On top of that, it's sleek and compact, so it's a great fit in almost any space.
Key Features
Easy-Fold Design for Quick Storage
Sleek and Compact
Stream Live and On Demand Workouts
Small Footprint
Tablet Mount
Comfortable Running Deck
The Echelon App can be used across all of their equipment lines, which means you can use the same app membership for your treadmill, and even a bike, rower, or their Reflect fitness mirror should you decide you want multiple fitness options.
They're currently offering a great introductory pricing package, and financing is also available. Learn more below:
2. NordicTrack Commercial Series Treadmill with iFit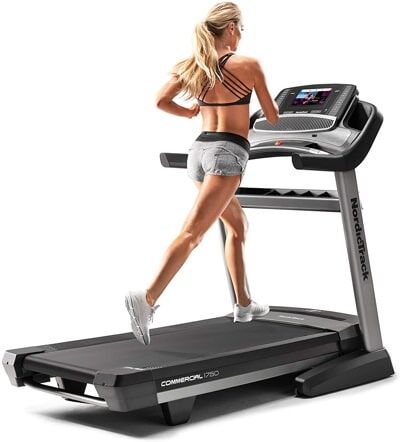 Coming in at almost half the price of a Peloton Tread+, this is a wonderful starting point for those who are trying to find a world-class alternative. With a long list of perks, this is a high-powered machine that continues to yield amazing results as you become a better runner.
Whether it is the gorgeous touchscreen display or the large-sized treadmill belt, there is something exquisite about this alternative that stands out.
NordicTrack has gone above and beyond to make sure this is a well-designed treadmill.
Key Features:
10″ HD Touchscreen Display
Automated Incline Technology
iFit Membership (1 Year)
Space-Saving Engineering
Smart Speed Adjustment (12 MPH)
22″ x 60″ Tread Belt
The iFit membership is a major plus point for those who want to get more out of their treadmill. Being able to toggle through the membership program and retaining full value through your workouts can be enticing. It is one of the most intriguing parts of using this app.
It is ideal for those who want to maximize how the treadmill works whether this includes the automated incline technology or the smart speed adjustment.
Check current NordicTrack prices at Amazon.
3. Bowflex BXT216 Treadmill with JRNY App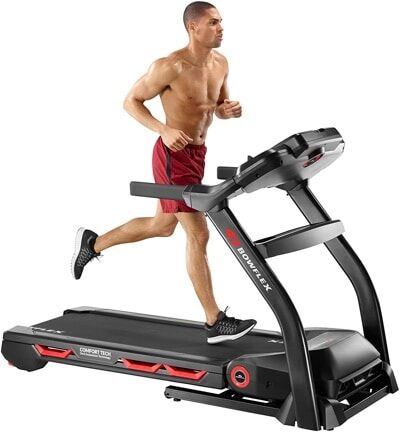 Bowflex has become a renowned brand in the fitness industry and for good reason. The company continues to engineer high-value equipment that is easy to set up, robust, and in line with modern standards. The Bowflex BXT216 is right up there with the best Peloton Tread alternatives.
This machine has a high-powered motor that is able to crank out a tremendous amount of power throughout the workout session. It also encompasses a wonderful tread belt with a beautiful foldable design for smaller spaces.
Key Features
4.0 CHP Motor
2.75″ Diameter Rollers
22″ x 60″ Tread Belt
Burn Rate Console
Foldable Design
Built-in Workout Programs
Bluetooth Connectivity
The real charm of this treadmill would have to be the accompanying JRNY app. This provides a way for runners to start gaining access to customized coaching, personalized runs, and real-time feedback.
For those who want to get more out of their runs, this is the best starting point.
Check current treadmill prices at Bowflex website.
4. ProForm PRO-9000 Treadmill with iFit
ProForm offers a sleek, easy to use treadmill with the PRO-9000. This is a machine that stands out for all the right reasons and includes a user-friendly design anyone can get behind. With its charming aesthetic appeal, extensive incline features, and 4.25 CHP motor, this has everything a person requires while working out.
The treadmill has been designed in a manner to make running a joy.
This includes how it is shaped, how easy it is to lift/move around, and how quiet it operates. Everything about the machine makes it a simple addition to your gym.
Key Features
Mach Z Commercial Plus Motor (4.25 CHP)
Dual Workout Fans
Weight Capacity: 300 lbs.
2.5″ Balanced Rollers
Easy Lift Assist
Proshox Cushioning
15% Incline
Quick Speed Control (0-12 MPH)
The iFit membership with this treadmill is great as it allows users to maximize how they go about adjusting the incline and speed.
The controls are easy to manage and this membership program gets the most out of the machine in seconds. Each workout session can be tailored to your needs making this a world-class machine to have in your home gym.
Check current ProForm prices at Amazon.
5. Nautilus T618: Explore the World Compatible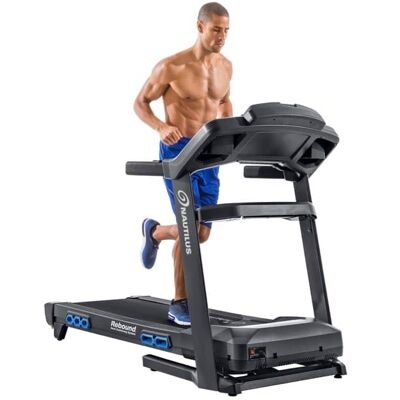 With its gorgeous backlit LCD display, Rebound Cushioning System, and charming wireless telemetric heart rate monitor, this high-tech treadmill is a joy to behold. It has all of the necessary benefits needed to make the most of a cardio session at home.
Nautilus has taken the time to craft a well-engineered machine that is able to work well in a wide array of situations.
Key Features
Backlit LCD Display
Built-in Speakers
Rebound Cushioning System
Pulse Grip
26 Workout Programs
Bluetooth Connectivity
Up to 4 User Profiles
Wireless Telemetric Heart Rate Monitor
Along with being a high-powered treadmill and a great alternative to the Peloton Tread, this also does a good job with its Explore the World app. This is noted for being one of the best fitness apps on offer right now and it can be seamlessly integrated with the treadmill.
Put this app to use and start enjoying the various perks of running on this machine. Everything from the multiple user profiles down to the 26 workout programs makes it a breath of fresh air in the industry.
Check current Nautilus price at Amazon.
6. Schwinn 870: Top Budget Pick
Schwinn has always been appreciated for focusing on customer behavior and what the average user wants from their machines. This starts not only with the high-grade engineering on offer, but also the pricing associated with their treadmills.
The Schwinn 870 doesn't disappoint and will bring a smile to your face due to how affordable it is compared to the Peloton Tread.
The treadmill provides a gorgeous backlit LCD display, access to 4 user profiles, and a large-sized tread belt coming in at 20″ x 60″.
Key Features
Dual Backlit LCD Display
Built-in USB Port
3.0 CHP Motor
20″ x 60″ Tread Belt
Up to 4 User Profiles
2.5″ Crowned Rollers
Weight Capacity: 300 lbs.
Foldable Design
26 Workout Programs
This is another treadmill that is not only power-packed with some of the industry's best features, it also provides integration with the Explore the World app. Anyone that is hoping to get more out of their treadmill is going to want to use this app.
It is a seamless app that will integrate in seconds and boost this treadmill to the next level.
Check current Schwinn prices at their website.
Summary: The Top Pick Is?
The Peloton Tread is renowned for being one of the world's best treadmills right now. It has been engineered with tremendous detail and provides exceptional performance year-round. Regardless of whether or not you're a beginner, the Peloton Tread does provide an excellent set of features. However, with all of these benefits, there is a con for some people, and that is the price tag.
It is pricey and that is something you may not want to pay up for right now. If you fall into this category, you may want to look for a more affordable fit that is going to be easier on your budget.
The treadmills listed here are a wonderful starting point ensuring you find a good fit that meets your workout needs and budget. Each one brings something unique and it comes down to personal preference.
What are you looking for from a modern treadmill?
If you want a budget-friendly pick, it's okay to go with the Schwinn 870, while the Nautilus T618 offers access to the Explore The World app.
There are perks with each one and your choice is going to define which one is best for your home.
If you're looking for the most well-rounded option, we recommend starting with the Echelon Stride. Learn more below: