In order to keep our content free, we may earn a commission from the companies mentioned in this post.
Have you ever found yourself so busy you couldn't make it to the gym? If so, you're not alone. Unfortunately, a lot of us live busy lives without a set schedule we can stick to. Because of this, finding time to go to the gym consistently can be a struggle, to say the least.
This has led a lot of people to look for home workout alternatives that they can take advantage of in their free time. After all, working out from home comes with greater comfort, convenience, and flexibility.
It's much easier to get home and get an effective workout in without having to get dressed, travel to the gym, and travel back home.
This has led to a lot of brands to enter the home workout equipment space.
One of those brands that have stood out in the industry is FitNation. FitNation has emerged as one of the best fitness brands in the marketplace. Luckily for consumers, they are targeting those looking for affordable at-home workout alternatives.
Not only have they created high-quality workout equipment from the likes of ellipticals and treadmills, but they have managed to innovate in a way that very few other fitness brands have managed to do.
That is exactly what they did with Rock N Fit.
What is Rock N Fit?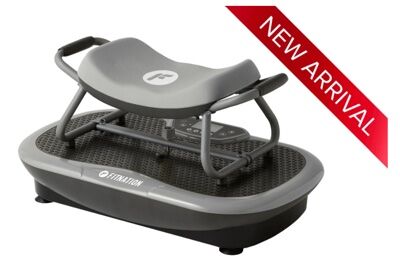 At first glance, Rock N Fit looks like a fancy seat or balance board. However, it's an all-in-one workout machine that can deliver fitness results while standing or seated without any work on your part required.
Want to learn more? Get the full details at their official website:
How Does It Work?
Sound too good to be true? The machine works by delivering 1100 revolutions per minute which effectively stimulates all of the muscles in your body and helps to penetrate through your fat. Therefore, much like your muscles would while doing physical exercise like sits ups, they are forced to stimulate while balancing which can help you burn calories without physically having to move.
Do Vibration Machines Really Work?
While it may sound too good to be true, these machines are indeed effective. Studies have shown that a vibration machine like the Rock n Fit can be just as effective as running on a treadmill not only for losing weight but also for improving one's bone strength [1]. There is still a lot more research needed to be done, but the results are very promising. While these machines shouldn't completely replace all forms of physical exercise, they can prove to be a very beneficial supplemental workout option for those looking to get into better shape.
Is the Rock N Fit an Effective Workout?
The good thing about Rock N Fit is the versatility that it offers. Unlike a lot of the other vibration machines that are being marketed, Rock N Fit allows you to burn fat while you stand or sit. No other machine has an integrated seat and handles that allow you to get in an effective ab workout while seated. The seat itself is designed to work by utilizing deep oscillating movements along with the perfect height placement to keep your core actively engaged throughout the entire vibration setting.
Rock N Fit Workouts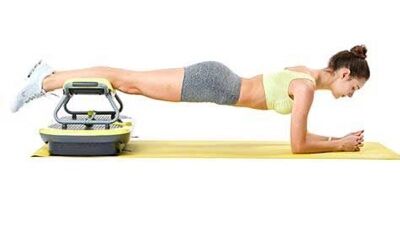 1. Vibration Stages
As mentioned, Rock N Fit is one of the more versatile machines you will find. It is an all-in-one vibrating exercise machine. Therefore, you will be able to personalize every single workout for the best results. The machine itself has different intensity levels that should be effective no matter your fitness level or age. The three stages it offers are; relaxed, comfortable, and strong zone. This means you will be able to progress through the various stages as you see fit. This can help you break through plateaus and allow you to get more and more out of the exercise machine each week.
2. Upper Body Add-Ons
The machine comes with rings that you can use for attachments. This will enable you to attach resistance bands and other workout equipment to it to allow for upper body exercises while you are in a seated position. This can help you get in a total body workout simultaneously.
3. Planks
You can completely remove yourself from the seat and even remove the seat itself. You can rest your forearms on the machine and perform planks using the oscillating movement to your advantage. This will enable you to target your core once again.
See all Rock N Fit workouts at their website.
Pros and Cons of the Rock N Fit
Pros
1. Compact
One of the major things that a lot of people look for when they are considering buying any kind of at-home workout equipment is the size of the equipment in question. After all, not everyone has a lot of space to work with. Storing heavy and bulky workout equipment at home is not an option for many. Because of this, you need to find something that is compact and portable. The Rock N Fit checks both of those boxes. If you are looking for a machine that is not only capable of delivering you real fat burning results, but also one that can do it without taking up your entire living room, this is a clear winner.
2. Versatility
Finding at-home workout equipment that is versatile enough that you will be able to use it daily is key. After all, you don't want to purchase equipment that you get bored with or that you cannot grow with as you continue to get into better and better shape. The Rock N Fit is versatile enough and it offers enough personalization that you should be able to continue to get effective usage out of it for years to come.
3. Technology
While it may look like a rather basic piece of equipment the thought and the engineering that went into the design of the Rock N Fit is incredible. When the seat is placed, it puts you at the perfect height and angle to ensure that your abdominal muscles remain contracted throughout the exercise. This keeps you from sitting on the machine and experiencing very little to no benefits like some of the other competing vibration exercise machines available. The Rock N Fit is in another class when it comes to the effectiveness of the machine purely due to its ingenious design and technology.
4. Sit or Stand
As previously mentioned, this is the only vibrating machine in the marketplace that has an integrated seat with handles. Therefore, you will be able to get an effective workout no matter if you want to sit or stand. Therefore, it can be good for those who constantly use the excuse of having sore or tired feet. No longer can you use that excuse with the Rock N Fit. You will be able to get an effective workout while in a seated position without having to be on your fitness after a long and hard day at work.
Cons
1. Price
As usual, greatness comes at a cost. For something so compact, you may be thrown back when you look at the price. However, considering the design and the technology packed into the machine, it's certainly understandable why the price tag is what it is. As long as you are willing to pay for a vibration machine that features an all-in-one design, you should be satisfied with the value you can get out of it.
2. Colors
Some people may be turned off with the Grey color scheme of the Rock N Fit. It would be nice if the machine came in different colors. The machine itself looks good and it fits in a modern home. However, having the choice of different colors wouldn't be a bad thing.
RELATED: A Review of FitNation's Slimline Treadmill
How Much Does it Cost?
As mentioned, the Rock N Fit isn't cheap. You can expect to pay an MSRP of $349.00 for the machine.
*Price current at the time of publication, but subject to change at any time – see current price at official Rock N Fit website.
Summary: Should You Buy a Rock N Fit?
The Rock N Fit delivers superb value for the money. While the machine itself isn't priced at the low end of the marketplace as you might expect with FitNations budget-friendly approach, the Rock N Fit delivers an experience you won't find in other vibrating machines.
While you could potentially find cheaper alternatives in the marketplace, none of them come with an integrated seat with handles. Therefore, in a seated position, you would not only find yourself getting incredibly uncomfortable, but you would also not be activating your muscles because your body would be positioned too low.
An incredible amount of thought went into the design of the Rock N Fit. Because of this, if you are after a vibrating machine, this is the one to get. If you are finding it incredibly difficult to lose the kind of weight you desire and you want something that can supplement your healthy lifestyle decisions, this can be a great addition.
The Rock N Fit is a good addition to the home of anyone who is seeking workout equipment that is both effective and compact.
With the compact design, you are getting something that can truly deliver without compromising your space.
References: