In order to keep our content free, we may earn a commission from the companies mentioned in this post.
You can often look at two different brands and see that one is clearly superior. But every so often we encounter competitors who can go toe-to-toe in many regards.
Total Gym and Bowflex are a perfect example of this.
They are both giants in the home gym industry and they both have a strong reputation for manufacturing excellent products. Choosing between the two is less about which brand is better and more about which brand is a better fit for your needs.
We're here to guide you through the maze of products offered by these two brands so that you can find the best fit.
Equipment Comparison: Is Bowflex or Total Gym Better?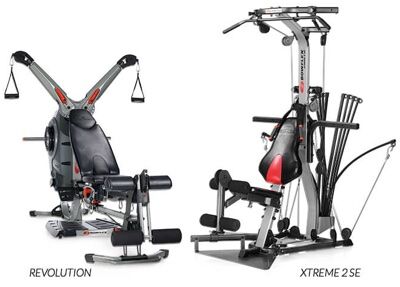 Staying fit and healthy is very important. So is meeting your specific fitness goals. Certain equipment is going to make meeting those goals much easier. For example, if you're trying to lose weight, then a high-quality cardio machine is going to be the best buy. If you're trying to build muscle mass, then a machine with weights is a better option. In this regard, the two companies vary in their strengths.
Both companies are well-known for manufacturing compact home gyms or multi-gyms. This is a single piece of equipment that is capable of performing multiple exercises and targeting different muscle groups. They are used mostly for strength training and building muscles.
Total Gym has a larger variety of these compact gyms like the XLS, the GTS, and the FIT home gym. Each of these machines is different and fills a different niche. Meanwhile, Bowflex focuses primarily on its Bowflex Revolution multi-gym.
The Revolution is a more well-rounded machine overall but it also costs more because it does more. If you're interested in saving money and have a very specific fitness goal in mind, then you'll likely prefer one of the more focused Total Gym models.
Bowflex also shines when it comes to equipment diversity. In addition to their multi-gyms, they also offer a variety of cardio machines like ellipticals, stationary bikes, treadmills, and compact trainers. This makes them a superior choice when it comes to weight loss.
They have also partnered with Peleton to provide "connected" equipment like the Bowflex C6 Bike. Connected equipment is capable of streaming live and on-demand training sessions while you exercise. These are classes led by real instructors that are streaming right into your living room as you exercise. It makes losing weight and staying healthy indoors much easier and more enjoyable.
Total Gym Workout Style vs Bowflex Traditional Home Gym
Each brand may be well-known for delivering results with their multi-gyms, but exactly how they deliver those results is very different. You can visually compare their equipment and you might immediately think that Total Gym is missing a few parts. It's not. Both home gyms utilize resistance training but the source of the resistance is different.
Total Gym relies on bodyweight resistance to help you shed fat and build muscle. If you've ever done a push-up or pull-up, then you're familiar with the concept. Only Total Gym uses sophisticated engineering to get far more noticeable results in more targeted areas. You can experience resistance levels up to 56 percent of your bodyweight with some equipment from Total Gym.
Bowflex uses its own unique system called power rod technology. This is a complex system of cables and pulleys where the resistance is generated from the cable or rod. The rod itself is a flexible steel cable that can bend as it is pulled. The resistance of the rod increases as you pull it. Multiple rods can be used at once to increase intensity further. Resistance weight can range anywhere from 5 pounds to 210 pounds.
Whether pulling steel cables or pulling your own bodyweight; you can get the results you want over time. But there are some clear advantages to each workout style. The power rod system will always allow for more resistance and thus greater intensity. It's a better fit for someone who wants a hardcore workout
The Total Gym bodyweight style is much better for people who are just starting to take fitness seriously. There's no reason to start pulling 200-pound cables if you're still struggling with bodyweight exercises. It's also a better option for people who have suffered injuries or who are rehabilitating.
Think Total Gym Sounds like a good fit?
Is Total Gym or Bowflex More Compact?
Many of us don't have the luxury of dedicating a large room entirely to gym equipment. We simply try to squeeze what we can in the spaces that are available. This can be even more difficult in you live in an apartment or have roommates. That's why compact equipment can be so valuable.
Not only is compact equipment ideal, but it's also beneficial if the equipment can be easily folded and stored. You don't have to worry about your equipment constantly sitting in the middle of the living room if you can pack it away in a closet when you are not using it. In this area, the two brands once again differ.
Bowflex home gyms are generally taller and wider. They also offer very little in the way of storage. You'll need a dedicated space with plenty of room. Some of their equipment requires at least 6 feet of clearance in length and up to 8 feet of clearance in height to use properly. This clearly isn't a great option if you live in a compact apartment or are renting a small room.
See Bowflex sizing options and prices at their website.
Most of the equipment sold by Total Gym has a very low height requirement. They don't have extra pulleys and weights above the arms that require additional space. However, they can stretch out to over 90 inches in length.
Another advantage Total Gym offers is the ease of storage. Their XLS can be folded away at nearly half its original size and stored in a closet. They are more lightweight because they only rely on bodyweight instead of plates or rods for weight. All of this combines to make the Total Gym multi-gyms a great choice for people with limited space.
See Total Gym sizing options and prices at their website.
Price Comparison: Is Bowflex or Total Gym Cheaper?
Prices for these two brands is going to vary a lot depending on the type of equipment and the model. Multi-gyms tend to be more expensive than other exercise equipment because they offer so much in a single package. First, let's compare the prices of the most popular multi-gym options from both brands.
Total Gym Pricing Options
Total Gym Supreme – $599
Total Gym XLS – $999
Total Gym FIT – $1,599
Total Gym GTS – $3,795
Free Trial Available
Bowflex Home Gym Pricing Options
Bowflex Xtreme 2 SE – $1,499
Bowflex Revolution – $2,899
As you can see, Total Gym has more options and they are spread further across the pricing spectrum. 3 out of 4 of their major home gyms are cheaper than the current flagship Bowflex home gym. That's good news if you're shopping on a budget. However, if you want the feature-rich Total Gym GTS, then you'll actually be paying more.
Total Gym does alleviate this pain by offering customers a 30-day risk-free trial. You can try any of their equipment for 30 days and if you don't like it, then you can return it. And if you do like it then you transition into a payment program. It's a great way to test what they have to offer and see if it really is a good fit.
Summary: How to Pick The Right Machine For You
Both of these brands have shown really strong benefits. Total Gym offers a larger variety of more affordable home gym options. Bowflex has a more limited supply in that area but their power rod technology can deliver intense results more noticeable than bodyweight.
The variety at Bowflex instead comes from their additional equipment, such as treadmills and smart connected bikes. If your goal is to burn fat, then Bowflex is your only real option.
And if you want compact equipment that you can easily store, then Total Gym is the way to go.
Resources